How to Paint Kitchen Cabinets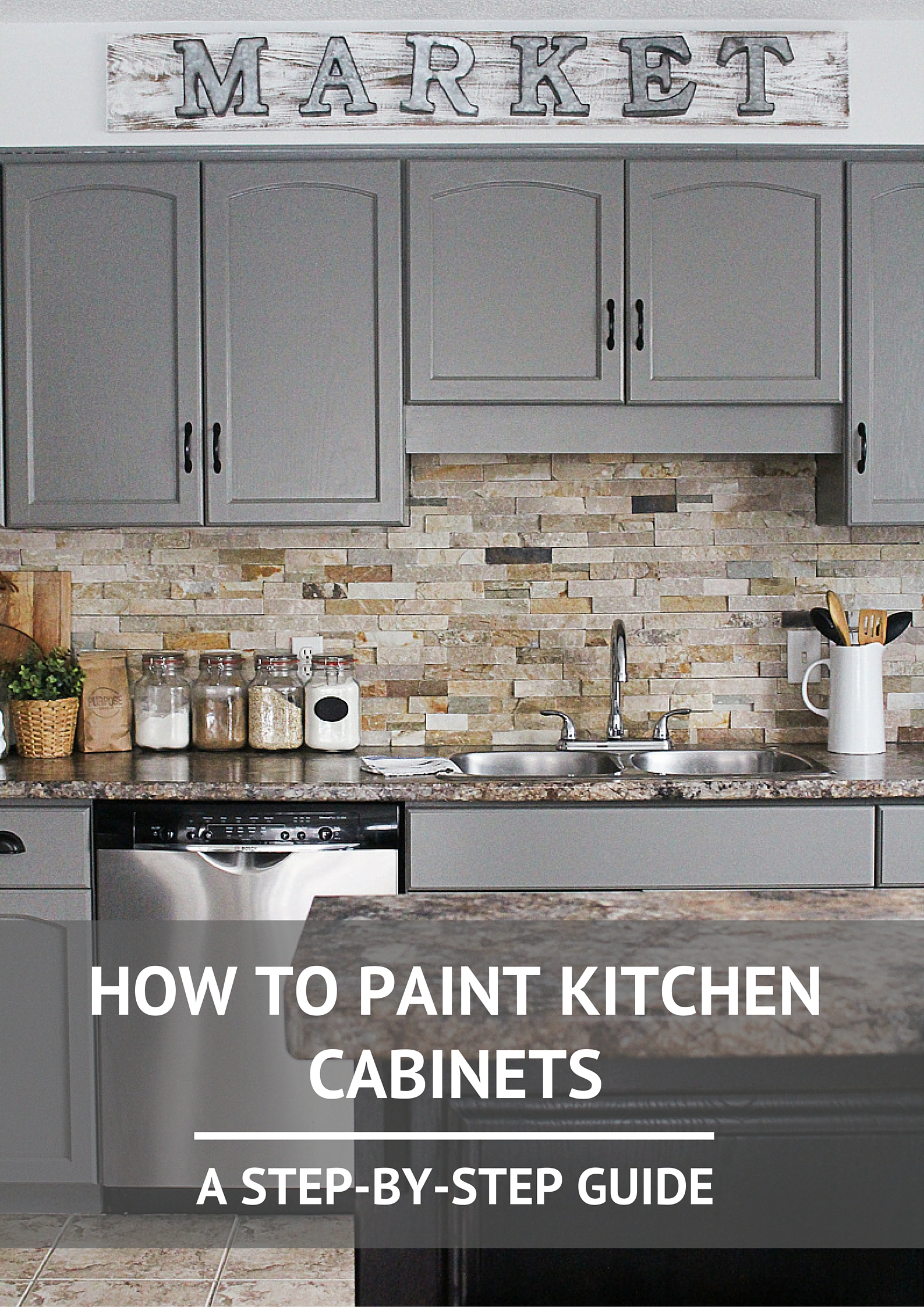 So guys here it is at last, I know some of you have been poking me to share the whole "how to paint your kitchen cabinets" process. Well, it took me almost as long to type each step out, as it actually did to paint the cabinets, kidding, but I'm so thrilled with the results which I have mentioned over and over again. Transforming your kitchen cabinets is so worth the labour if you are familiar with painting and a BONUS: it's a huge money saver! For under $200 you can simply transform your outdated kitchen into something you have long envisioned and dreamed!! From the beginning I had always thought that the only way our cabinets would get a makeover is if a "professional" were to do the job for us — boy was I wrong! After pinteresting and googling kitchen cabinet makeovers, I started to feel confident enough to tackle our own! I gathered helpful information from numerous sources and combined it all into a step-by-step system that worked for me!
"Painting your kitchen cabinets is a lot like painting a piece of furniture, just 1,000 times more prep and labor!!"
In case you missed it, here's Our Kitchen Progress post featuring some inspiration behind the over-all look of our kitchen, and Our Kitchen Makeover reveal with before and after photos!!
A Step-by-Step Guide on "How to Paint Kitchen Cabinets"
Now let's get started… but first if you have young children, send them off to your parents for four-ish days before you attempt to paint your kitchen cabinets- I mean it, you've been warned! 
SUPPLIES
• 1 Can Zinsser Bulls Eye 123 Water-Based Primer
• 1 Can — we used Chlesea Gray• Cabinet Cleaner (make sure it's compatible with Zinsser Primer or make up your own remedy)
• 1 Paint Brush
• 3x Foam Roller
• 3x Paint Tray
• Tack Cloth
• Scrubbing Sponges
• 120 Grit Sand Paper
• Frog Tape
• Drop Cloth/ Newspaper
• Wooden Blocks or Painter's Pyramid
• Felt Bumpers
THE BEFORE
I know it's not all that bad and some people do prefer honey oak over painted cabinets. But in our house, I felt consumed by wood, there was just to much of it and I was looking for some modernized change!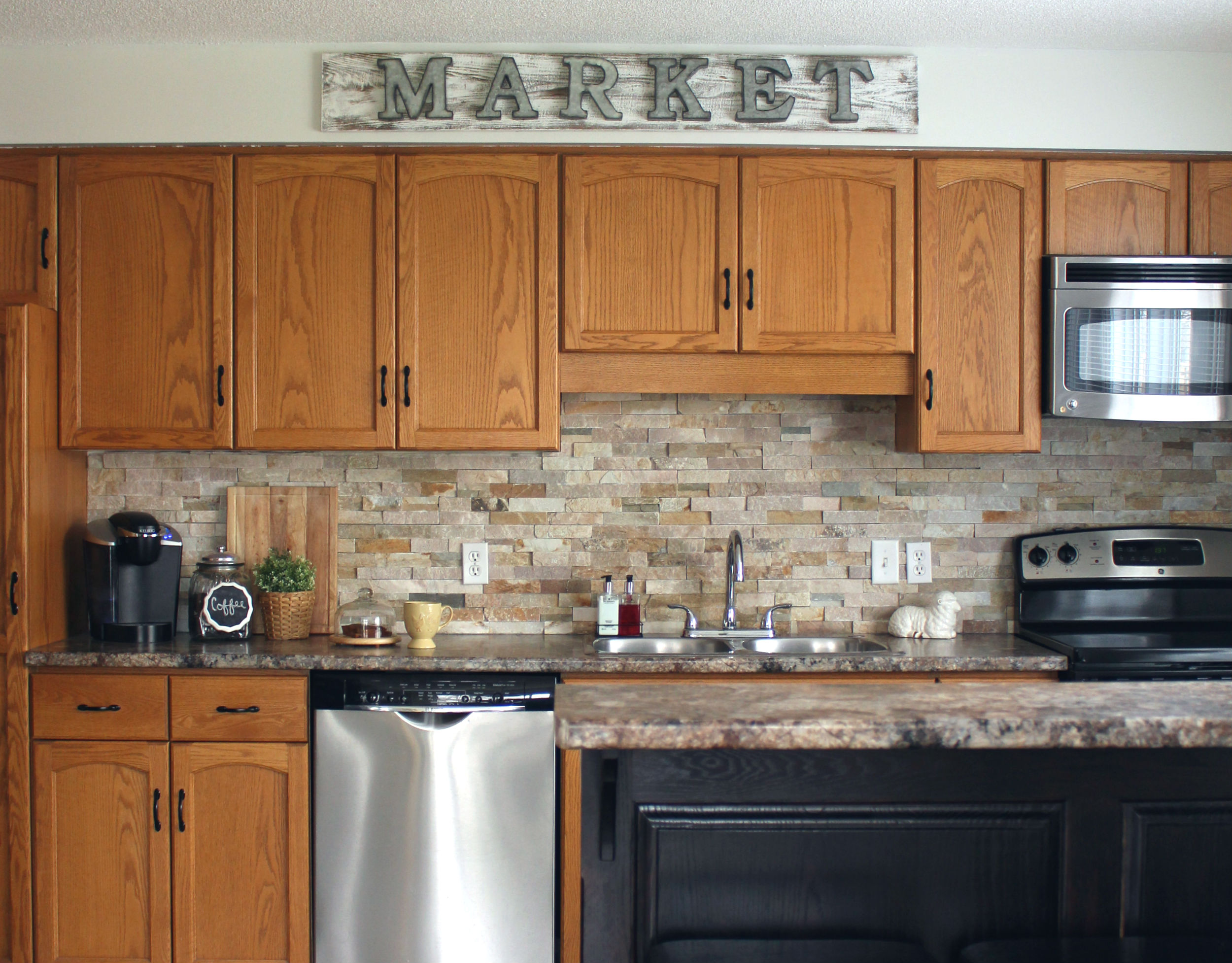 LET'S GET STARTED!
DAY 1: PREP CABINETS (the longest and most time consuming part)
Day 1 can also be broken into two days by removing cabinet doors, drawers and hardware the night before so that you have plenty of time to prep the cabinets properly… OR you can haul ass on DAY 1- your choice 🙂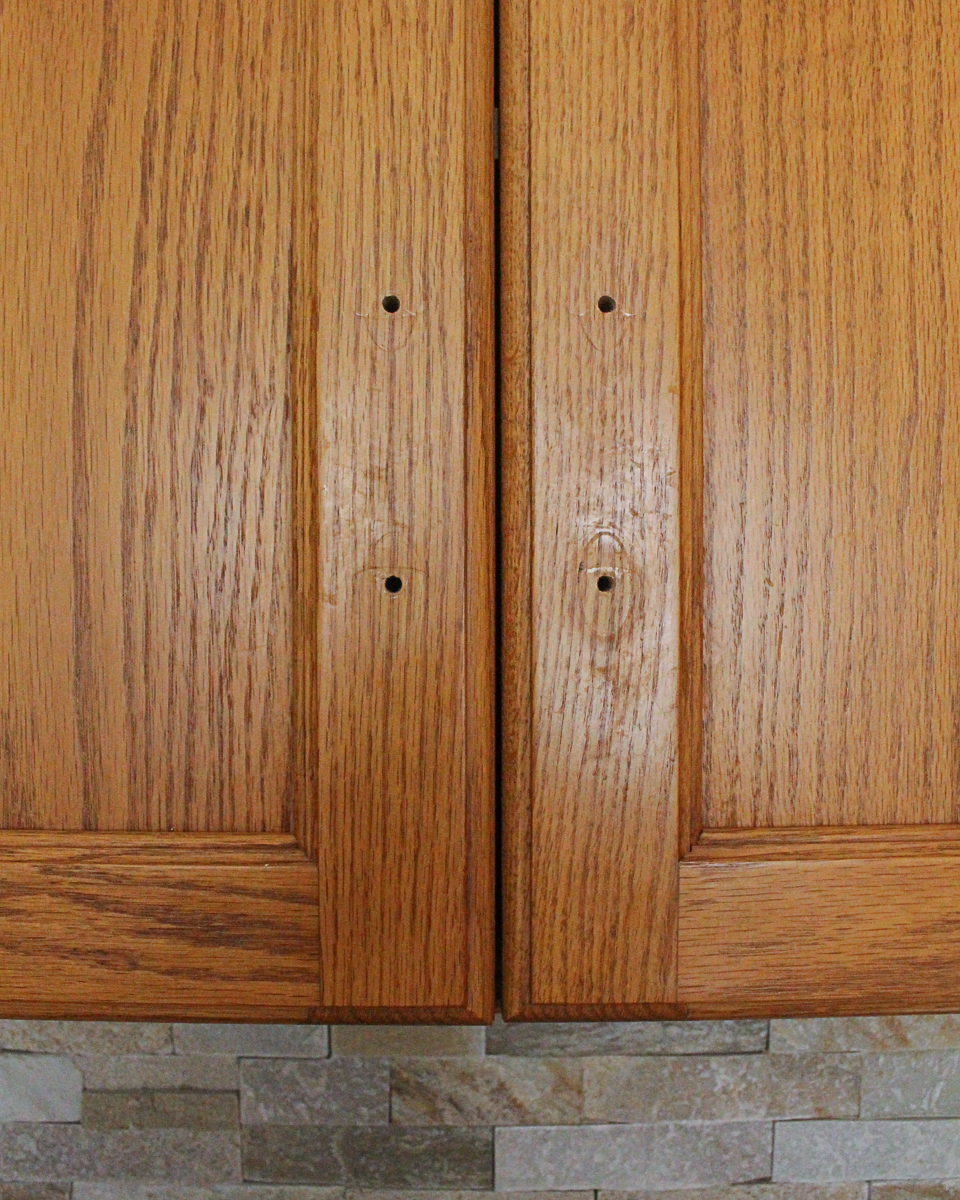 • Remove all handles/knobs and store in a zip lock bag. PS. Look at all that gunk stuck on the cabinets, gross!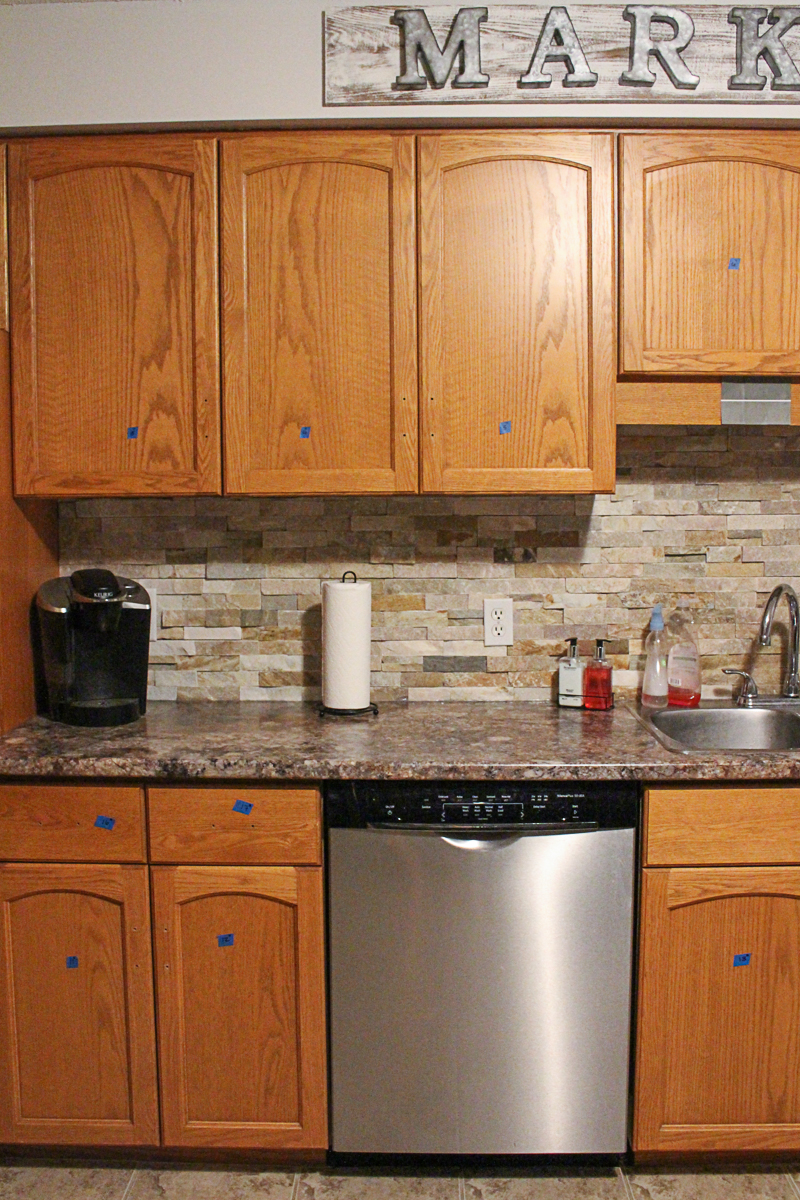 • Using tape, label each door and drawer. I drew out our kitchen cabinet layout on paper and numbered each cabinet/drawer to match my existing kitchen cabinetry.
• Remove cabinet doors and hinges, store hinges in another ziplock bag if you plan to reuse them.
• Move the rest of the drawer boxes (where all your utensils, junk and etc. hang out) in a safe place, out of the way.

• Layout all cabinets/ drawers in a place where you plan to paint them. Make sure to cover the surface underneath cabinets/drawers with newspaper or a drop cloth.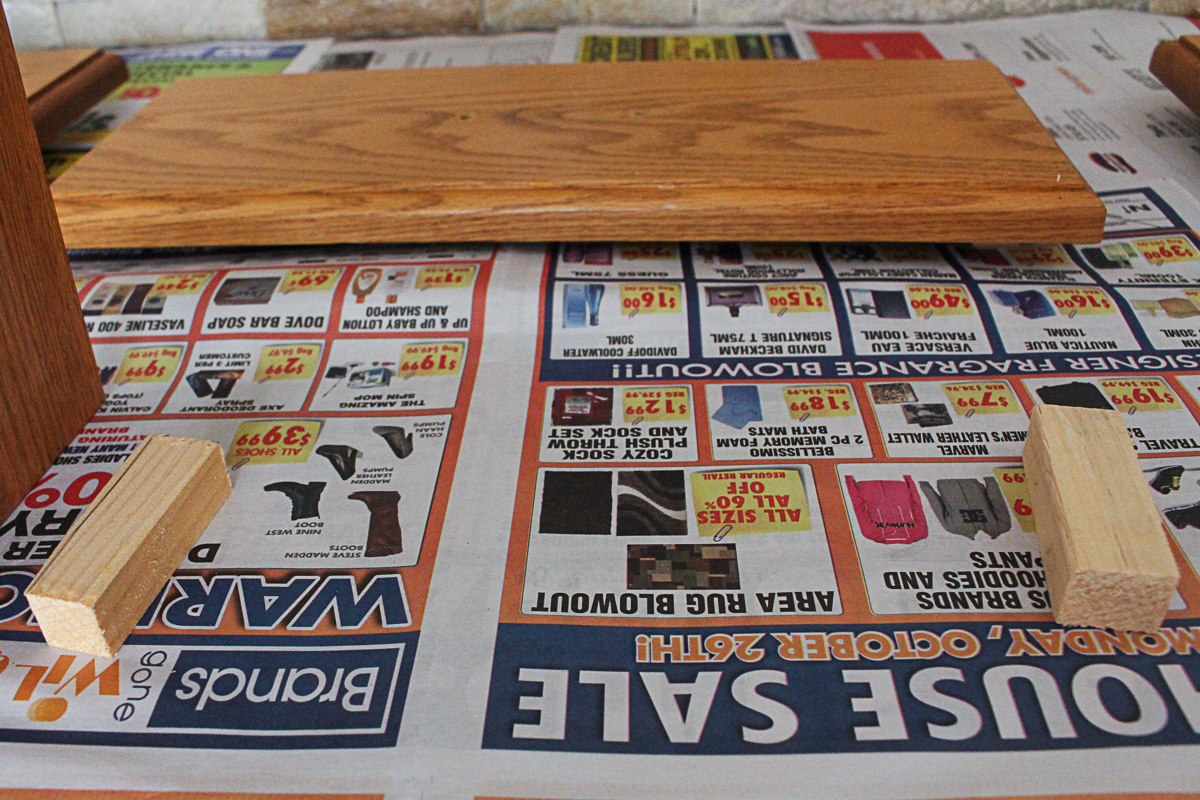 • Use small wooden blocks to raise cabinets/drawers from surface (another option is Painter's Pyramid).  Since it was October when I painted mine, I had no choice but to paint them indoors. I would recommend painting them during the mild spring months in the garage or in a place where you have plenty of room and lots of ventilation.
• Remove everything from your countertops and store somewhere away from your painting zone.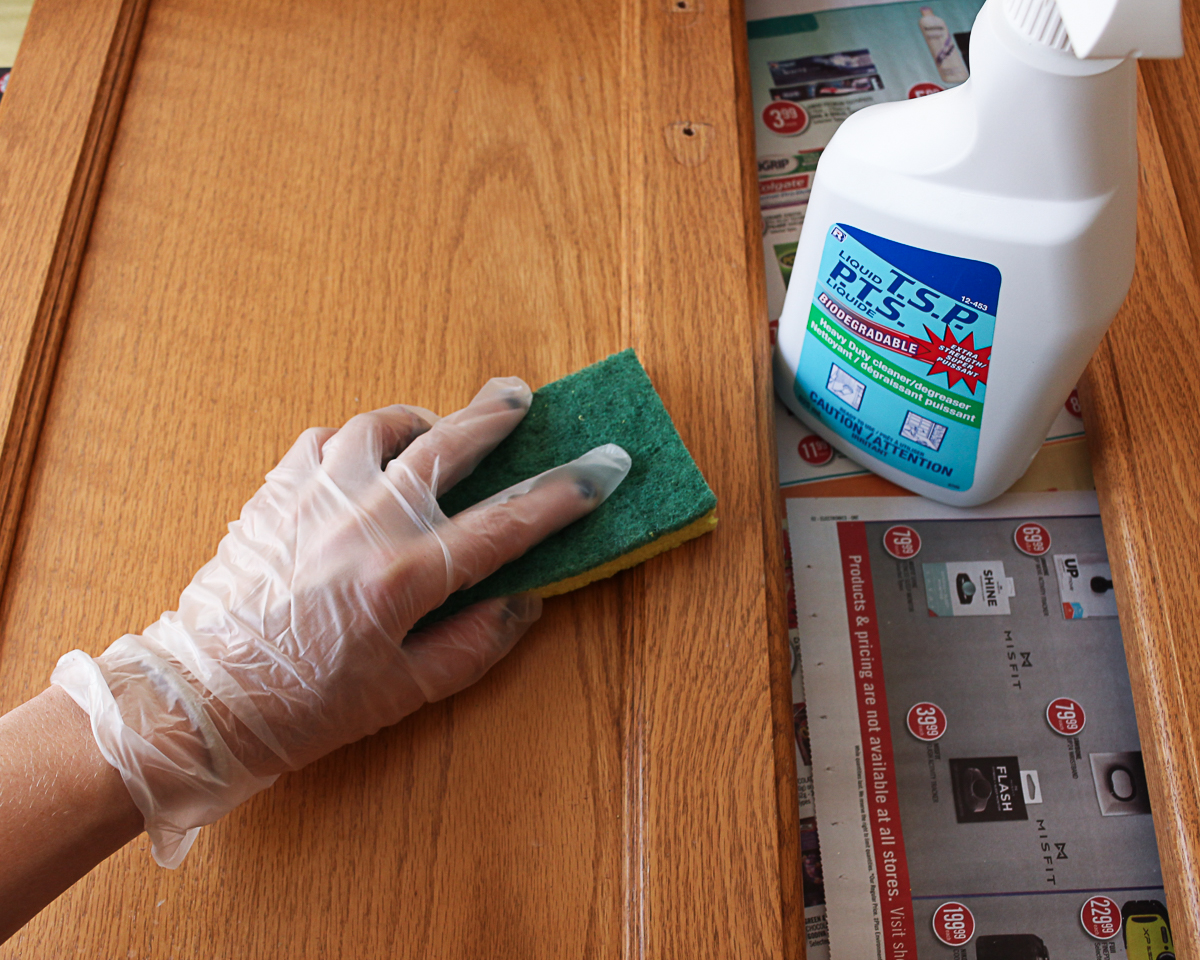 • Clean both front and back of cabinets and the drawers, also remove old felt bumpers from the backside. This is VERY IMPORTANT!!! If you want a super durable and smooth finish, DO NOT skip this step. I used a  to clean my cabinets, but if I were to do it over again I would make up my own homemade remedy consisting of dish soap, vinegar, Borax and water. If you read the label on the Zinsser Primer, it recommends not to use TSP cleaner prior to priming with Zinsser. The reason is that there is something within the combining substance that withholds the primer from properly adhering to the surface you're painting. After research and thankfully I did an additional, rinse, sand, and wipe, I have yet to notice any problems- PHEW!
• Because I used the TSP cleaner, I did an additional step and washed the cabinet boxes/doors/drawers with soap and water after I used the TSP cleaner.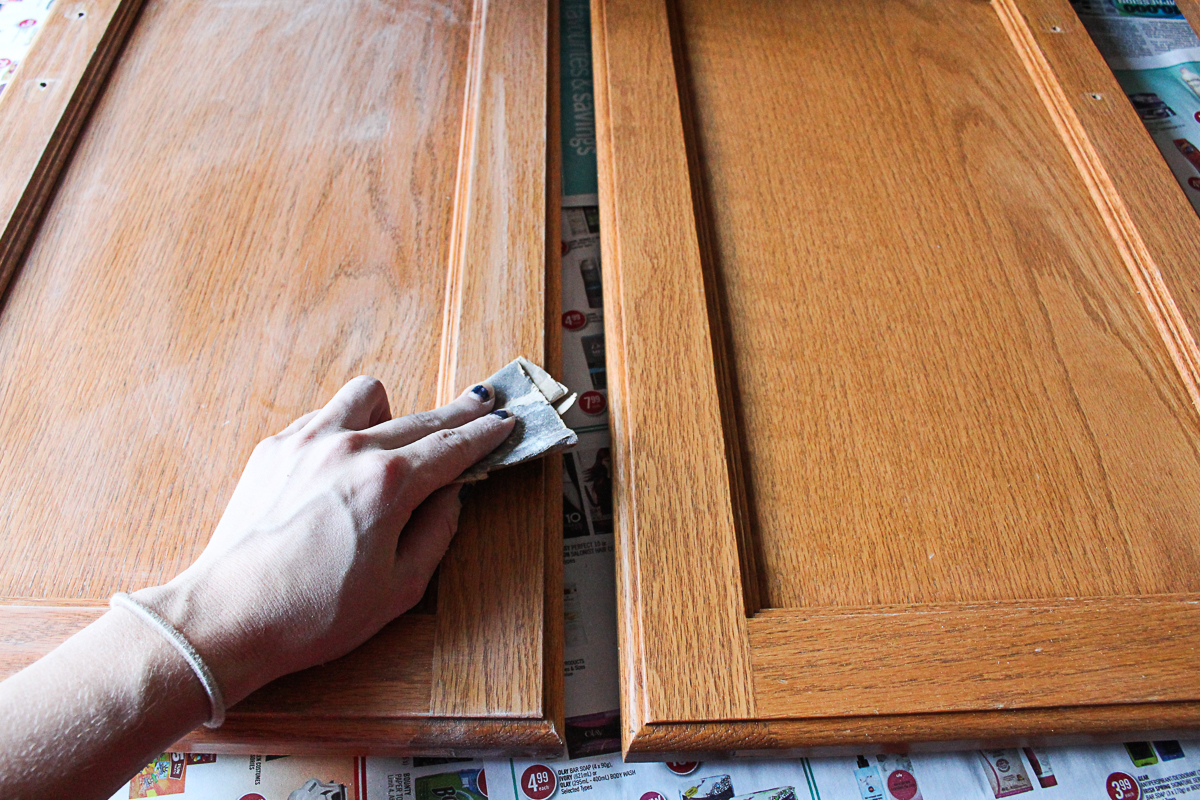 • Sanding time! Use a 120 grit of sandpaper. Begin by sanding the cabinet boxes first. Make sure to sand every corner and lip that will be painted. The trick is to sand the surface enough to remove the shiny finish on the wood. Also, try to extra sand areas that will be touched the most aka where the hardware is located. Move along to the cabinets and drawers. Caution: if you're painting the cabinets inside the house, I would highly recommend carrying each cabinet/drawer outdoors to sand- another reason why spring is the best time to paint 😉 OR you can totally do it my way and sand indoors, which will lead to vacuuming like 100 times!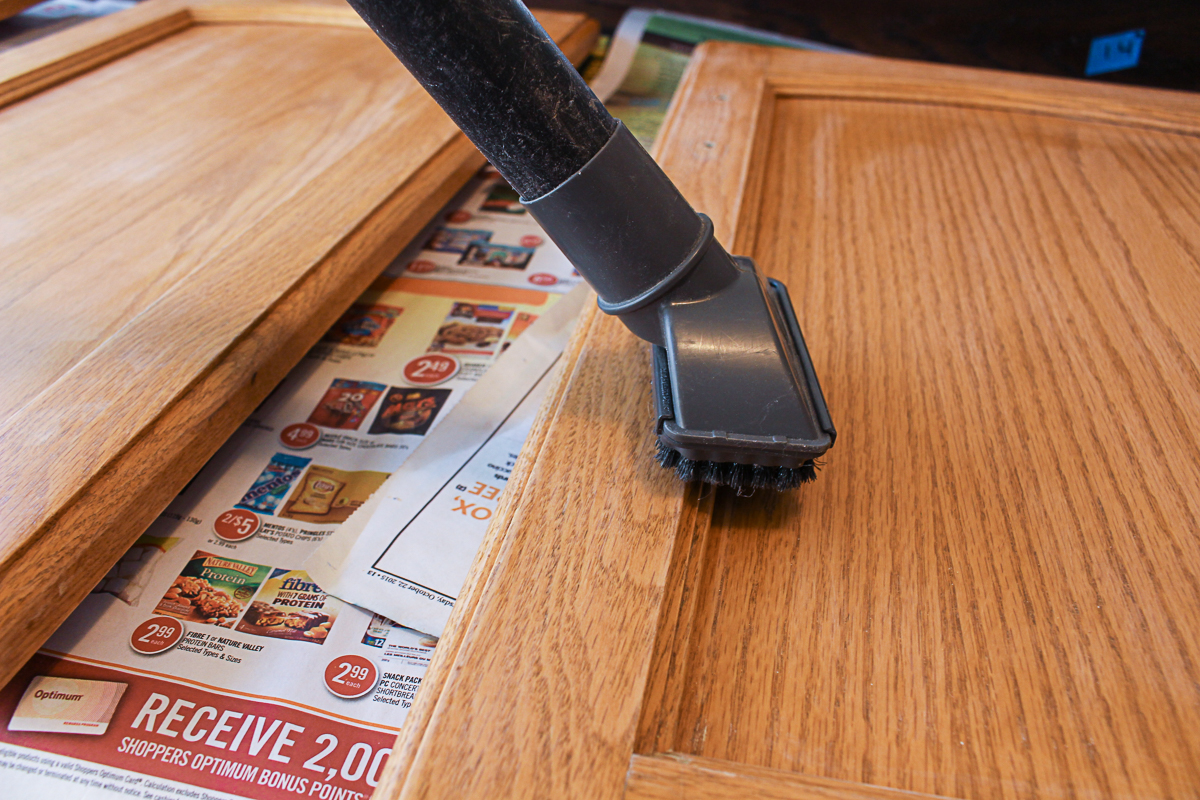 • Using a shop vacuum and funky attachment (even if you do sand outdoors), vacuum up any remaining dust in the creases of the cabinets.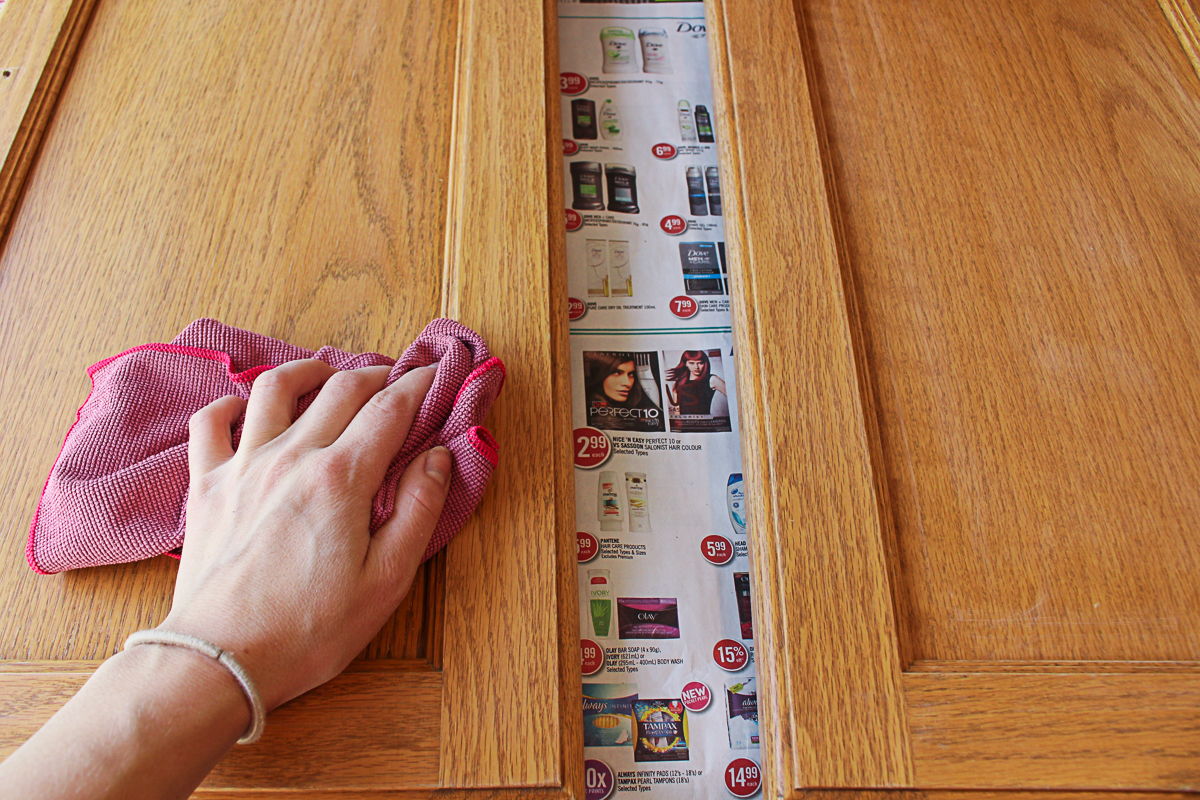 • Wipe the cabinets down with water, then dry and use a tack cloth to make sure you get every last dust particle!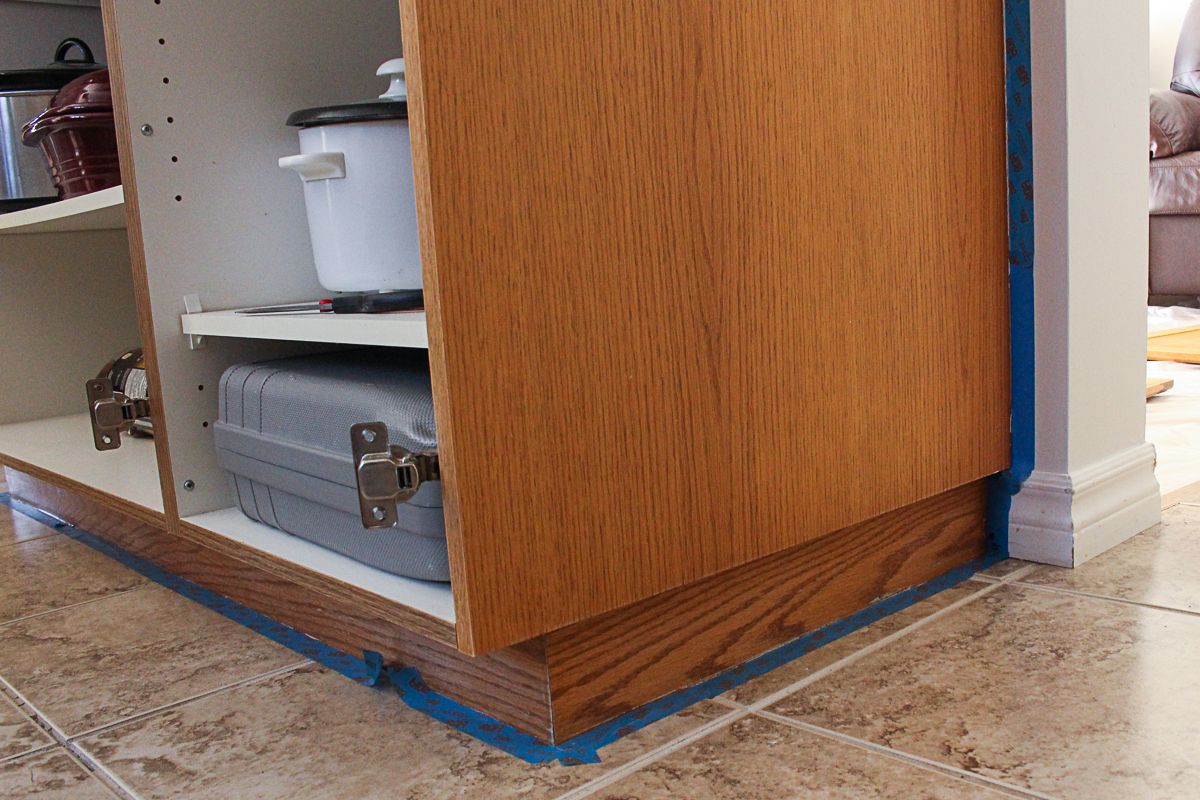 • Tape off floors, walls, appliances, inside of cabinets, hood vent or anywhere else that you do not want any paint to reach.
DAY 2: PRIME TIME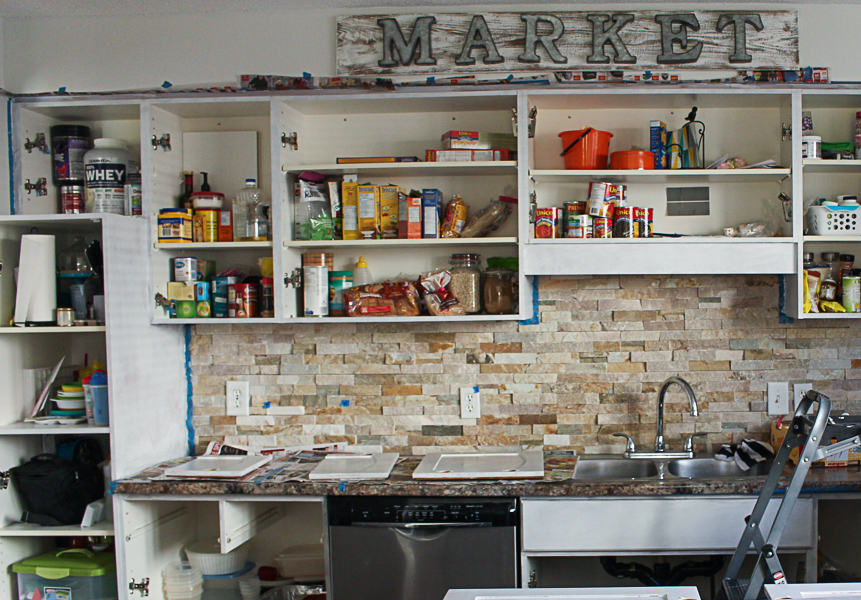 •Starting with the cabinet boxes, begin priming by cutting in with a paint brush then use a foam roller on those exposed easy-to-reach areas (exactly like painting a wall). Don't judge, the insides of my cabinets are a mess! ALSO, can you tell why white wouldn't have exactly worked, even though this is a stark (primer) white, it still would have slightly clashed.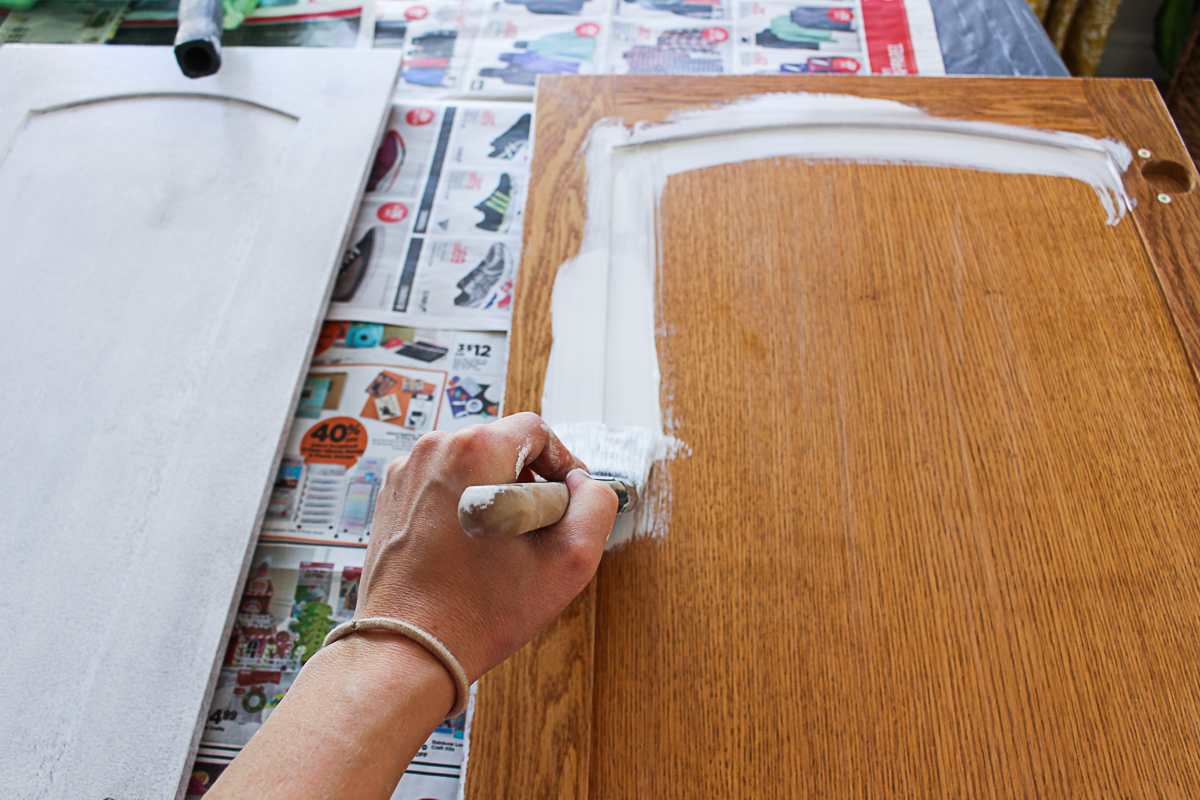 • Prime the BACK of cabinet doors and BACK of drawers first. Using a paint brush paint inside the panels and roll the rest. Make sure to lightly paint around the edges with the roller (you want to paint to be applied seamlessly).
WAIT AT LEAST 2 HOURS- primer drys fairly fast, phew!
• Flip and prime the fronts of cabinets/drawers. With the drawers, I recommend painting the SIDES the same time as you paint the FRONTS.
• Now that the cabinet boxes are dry, lightly sand and wipe any access dust with a tack cloth and after the cabinet doors/drawers are completely dry do the same to them for a ultra smooth finish!
Sanding a second time is not necessary, but if you want an ultra smooth finish, go for it! 
DAY 3: PAINT TIME!!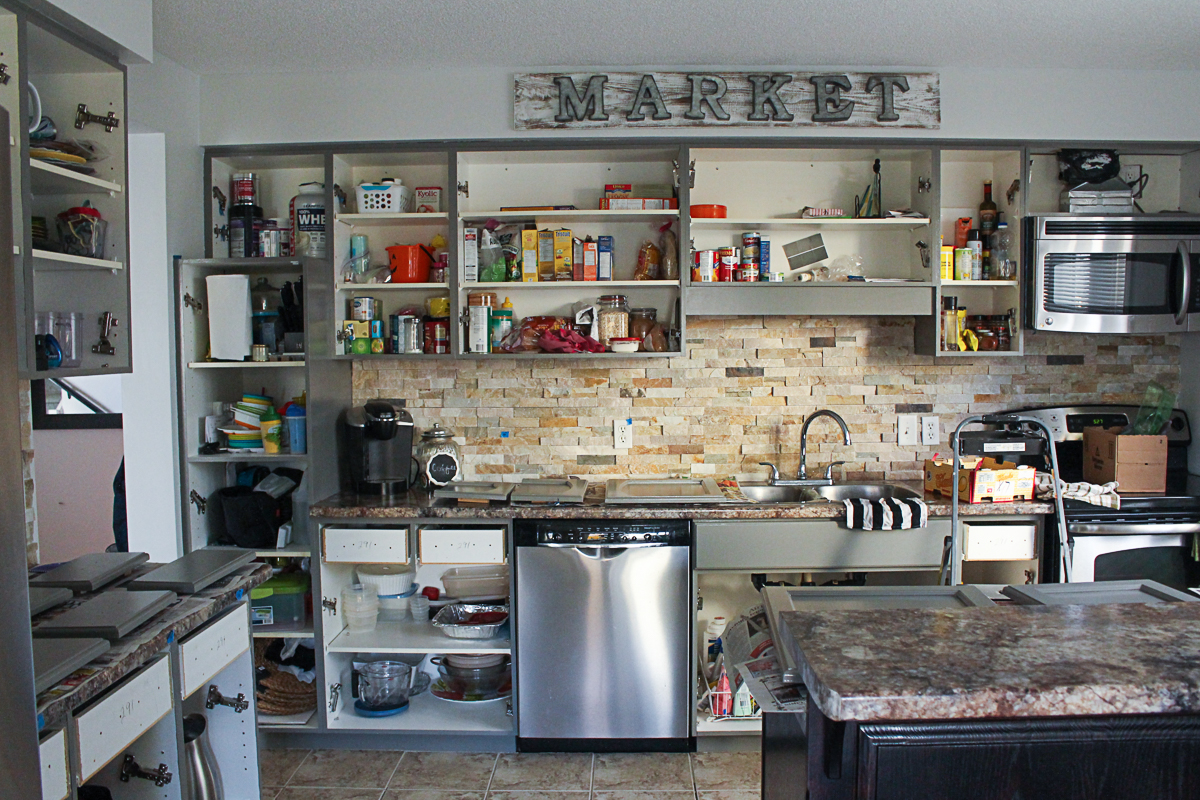 • Paint the cabinet boxes. Begin painting by cutting in with a paint brush then use a foam roller on those exposed easy-to-reach areas (the same method as priming).
• Paint the BACK and SIDES of the cabinet doors and drawers. With the drawers, I recommend painting the SIDES the same time as you paint the FRONTS.
• Paint a second coat onto the cabinet boxes after 4+ hours of drying time. By this time the boxes should be dry enough and you will officially be done painting them, WOO!
• Remove tape while the paint surface is still slightly wet.
• Paint a second coat on the BACK of cabinet doors and drawers. You will have had at least 5 hours of drying time.
DAY 4: FINISH PAINTING (YES!)
• Paint FRONT of cabinet doors, drawers and drawer sides. Let them dry for majority of the day and then give a second coat of paint!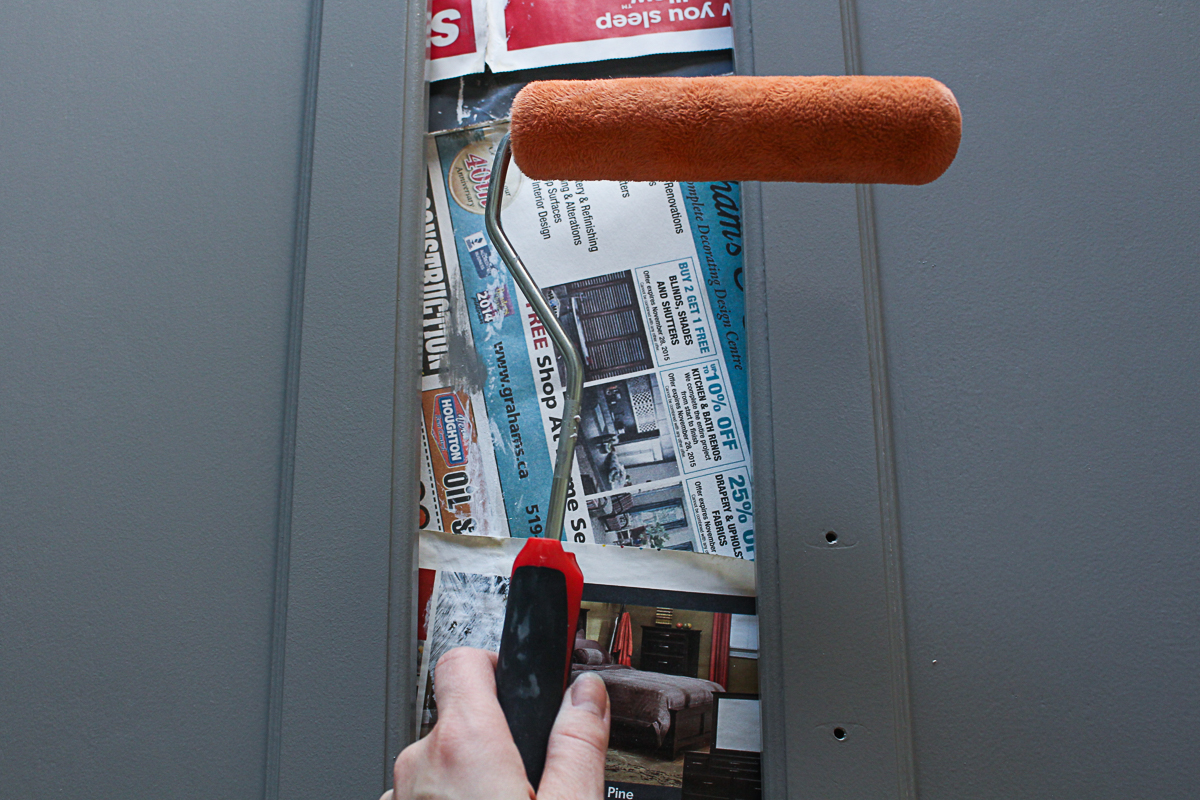 • Move appliances back into place, and maybe clean out your cabinets/ drawers if you're feeling productive… without the cabinet doors, my kitchen shelves looked like a disaster, yikes!!
DAY 5: PUT KITCHEN BACK TOGETHER
Now that all of the painting is done and over with *phew* it's time to put the cabinet drawers and doors back on.
• Start with the drawers first. Insert drawer storage and screw the face of each drawer back on, then add the hardware.
• Add the hinges. Screw the hinges onto the cabinet boxes first ( I started with the bottom and worked my way up).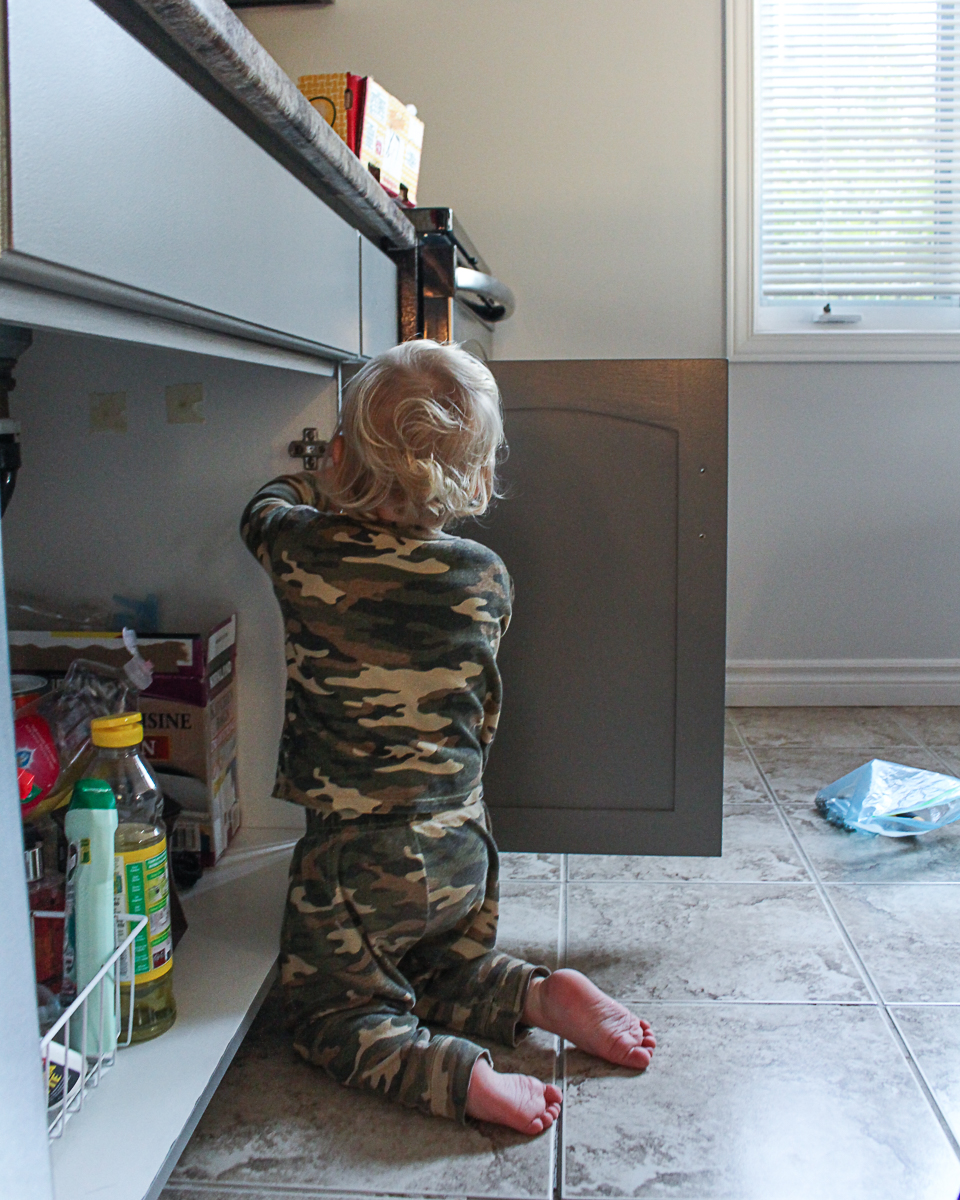 • Screw the cabinet doors back onto the hinges (starting from the bottom up). By this time I was reunited with my little rascals whom insisted on helping!! 
• Add hardware back onto cabinet doors and drawers. I used the old handles for the cabinets doors but then I purchased black cup pulls for the cabinet drawers- this totally makes our kitchen look customized and complete! IT'S LOOKING GOOD BY NOW.
• Add felt bumpers to the drawers and cabinets (you would have removed the old ones prior to sanding and painting)
By following these steps, you can transform your kitchen into a space with updated and character-worthy appeal!
THE AFTER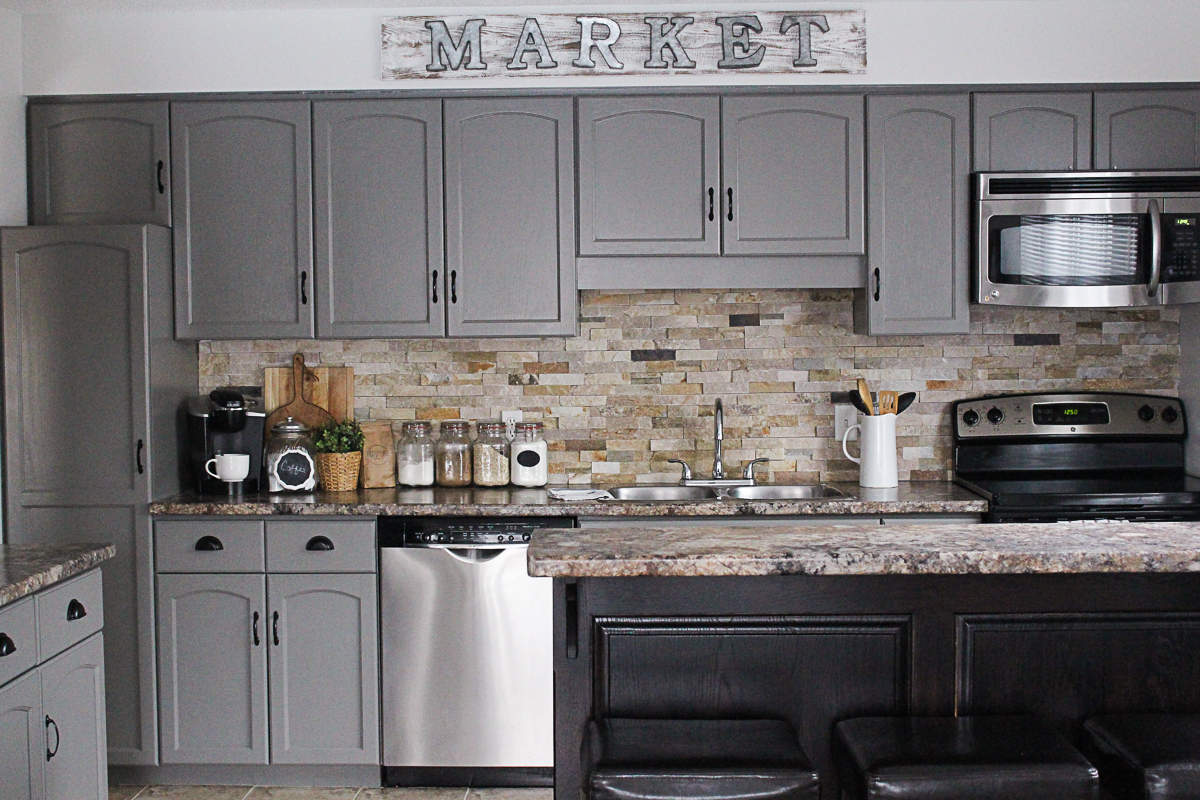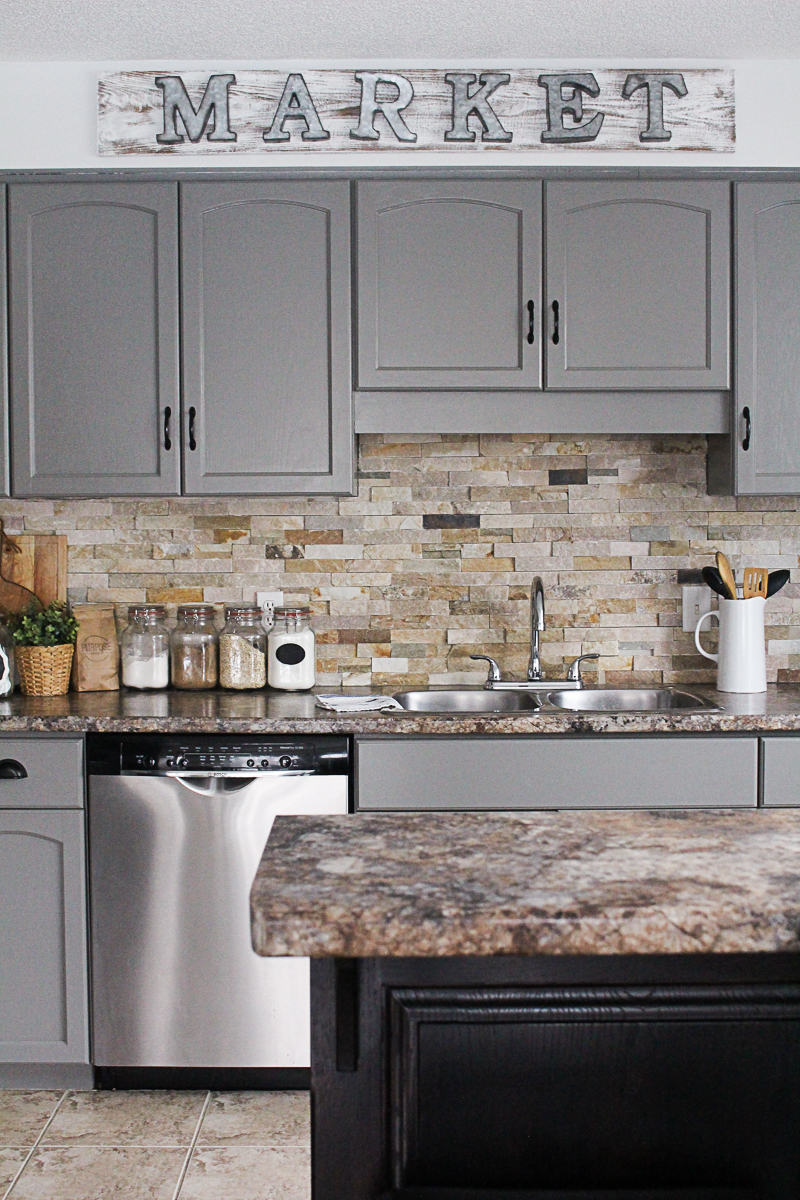 DIY Galvanized Market Sign tutorial found here.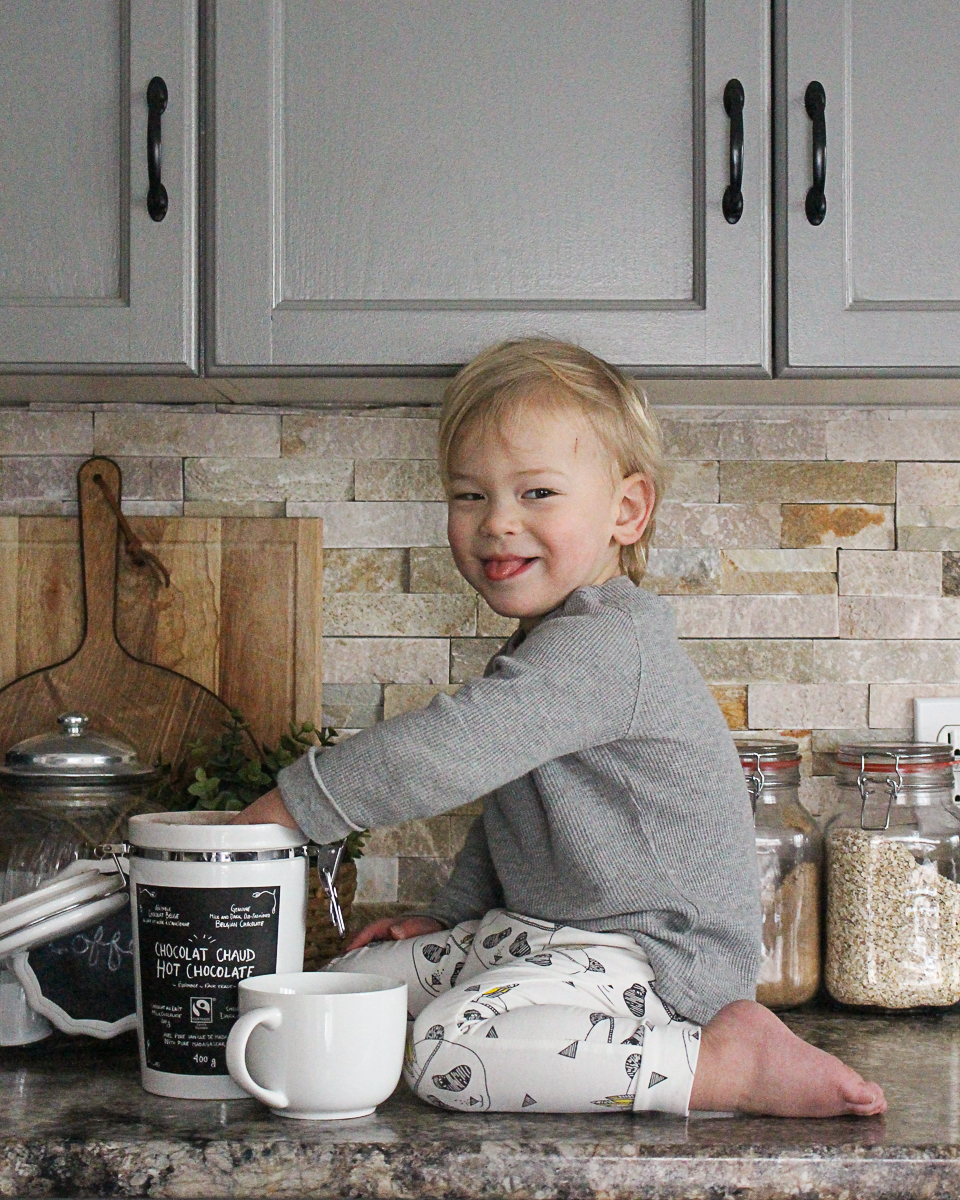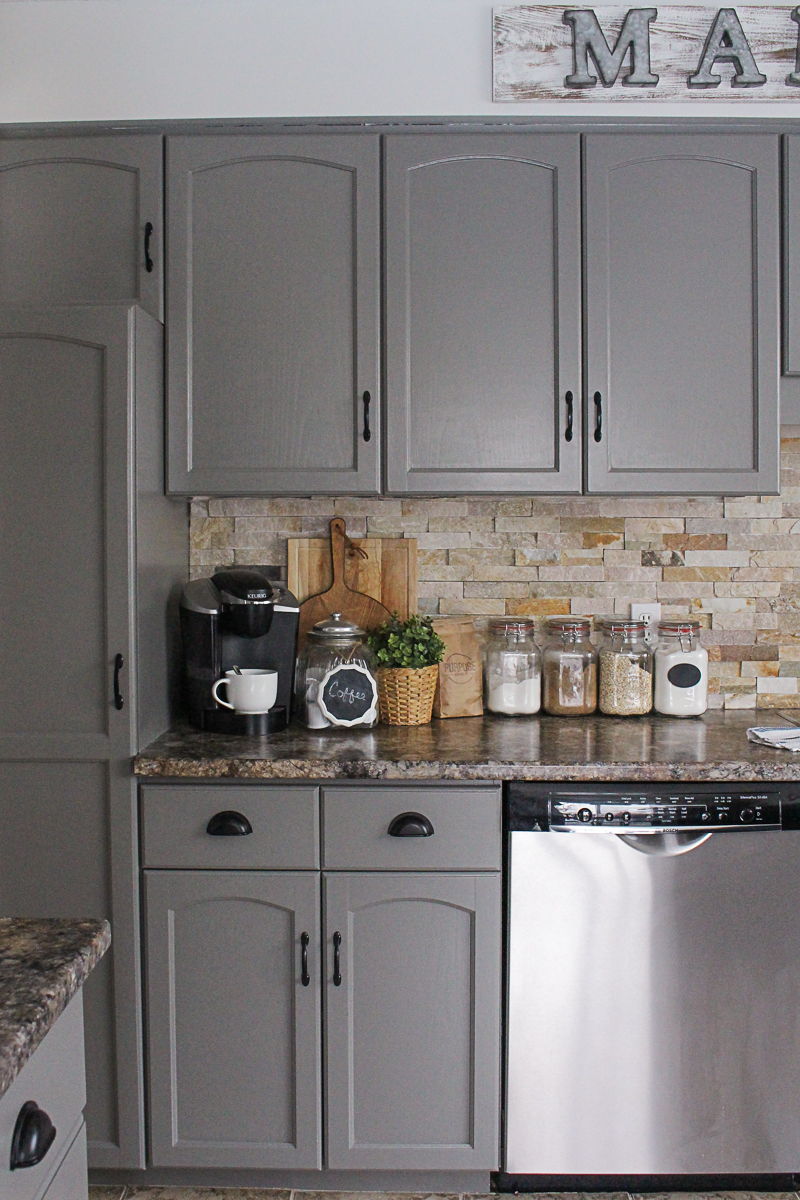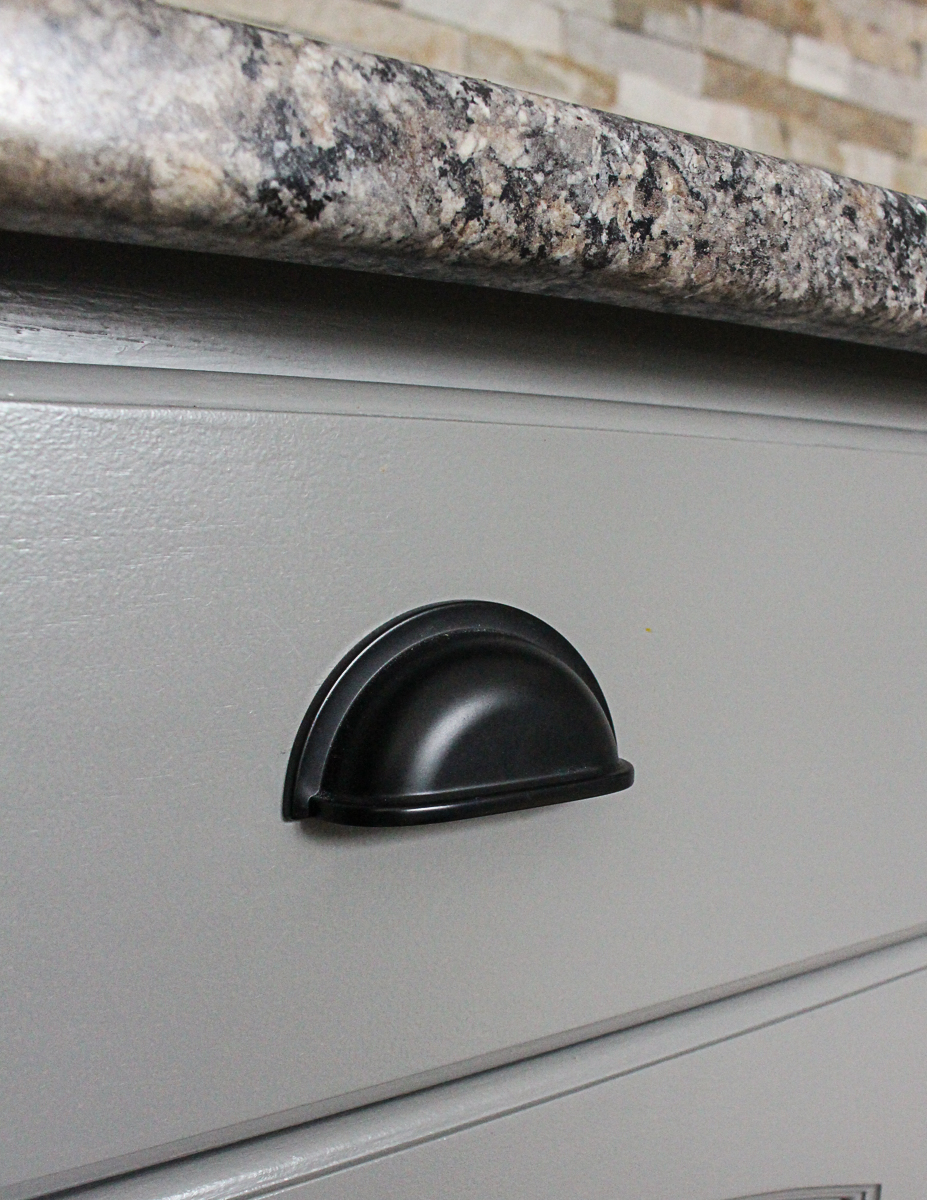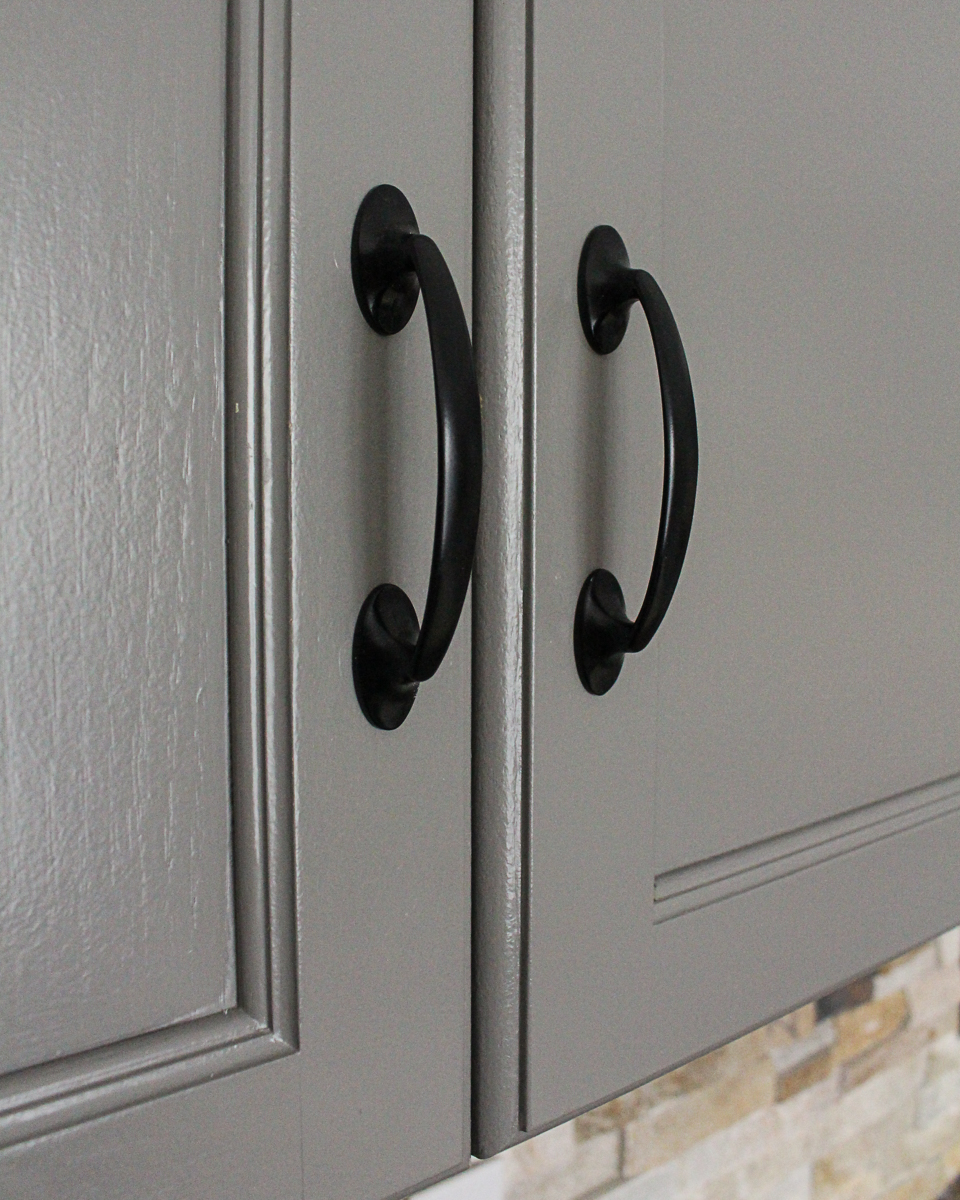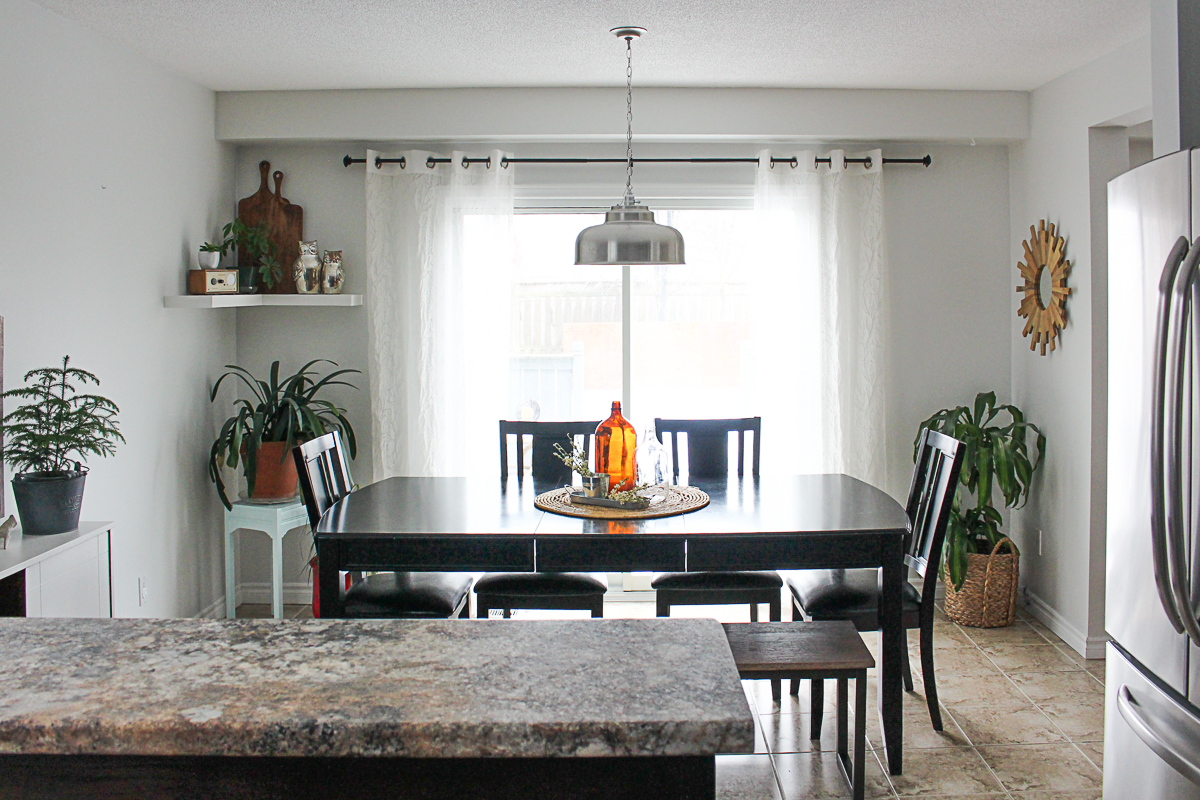 Thanks for shopping by and if you have any questions or concerns, let me know if the comments section below you shoot me an email!!
SEE MORE OF OUR HOME, Click HERE and make sure to check out my Instagram 🙂