Ideas for Popular Kitchen Colors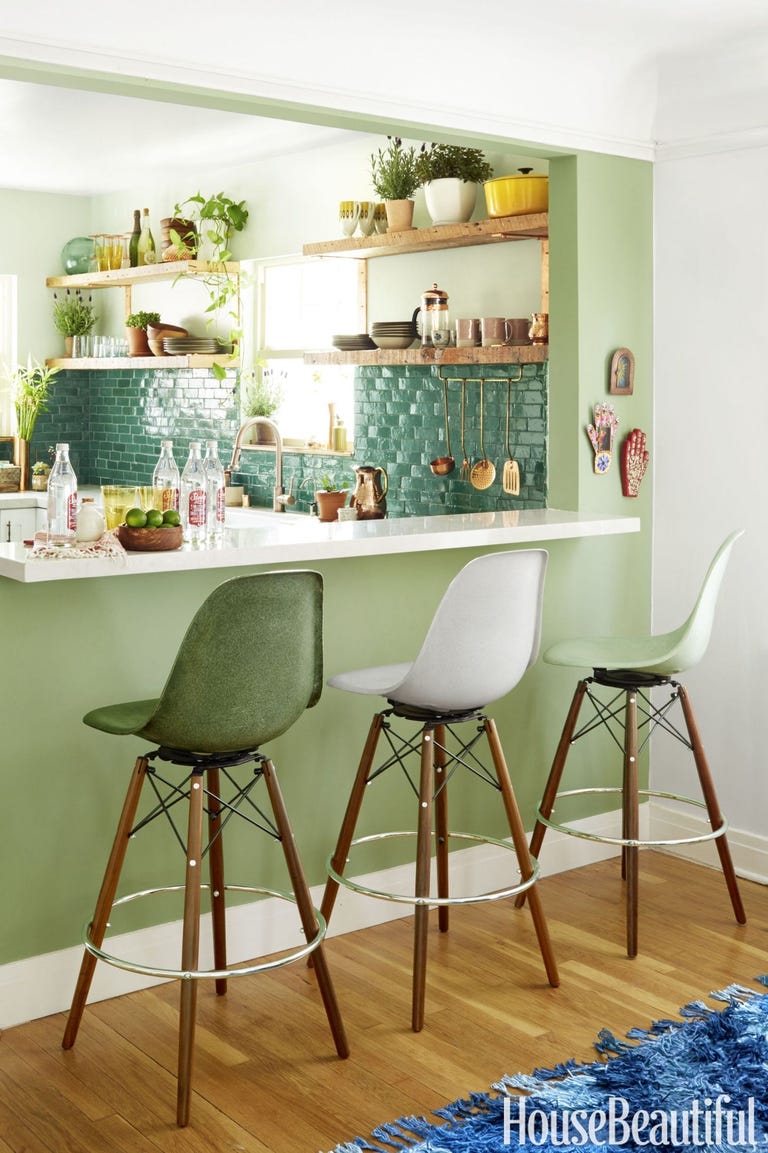 The Look
Justina Blakeney's Los Angeles cottage features bold color throughout. Her breakfast bar and kitchen are in shades of green befitting her signature "Jungalow" look.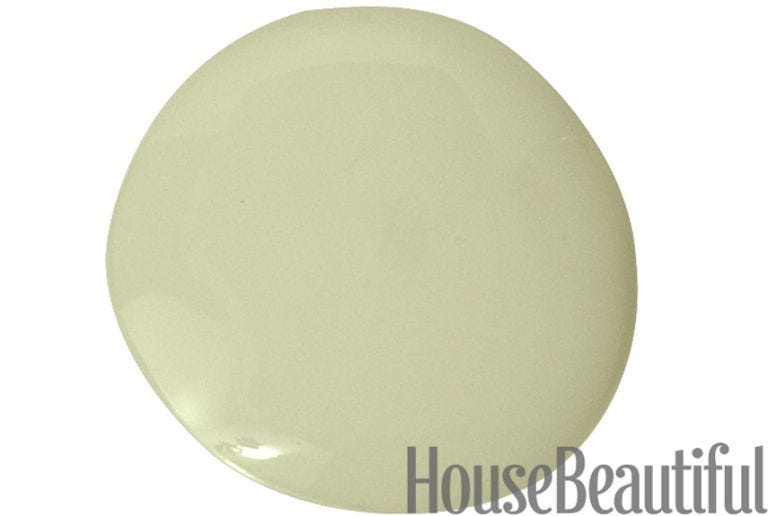 Color Inspiration: Sage Green
"Green is in the middle of the spectrum, so in a sense it incorporates both ends and embraces all the realms of light that people need for nourishment. It evokes both warmth and coolness. Since it's ubiquitous in nature, it takes us back to nature." — Donald Kaufman
Make it yours: DKC-63, Donald Kaufman Color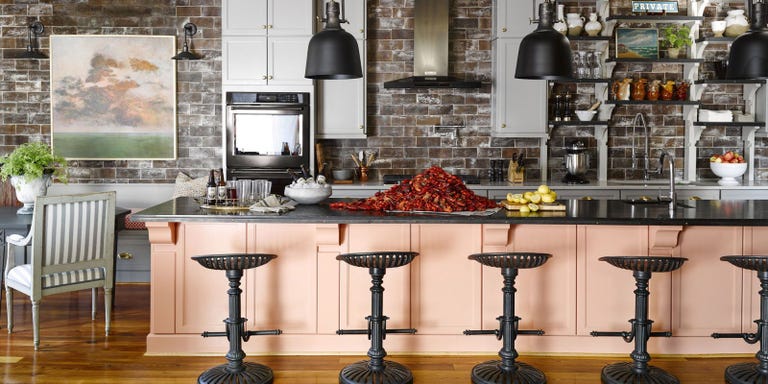 The Look
In our 2015 Kitchen of the Year, Ken Fulk designed a huge island for an entertaining-loving family and painted it pink. Though it's a soft shade, the color grabs your attention in contrast to the more industrial elements in the kitchen.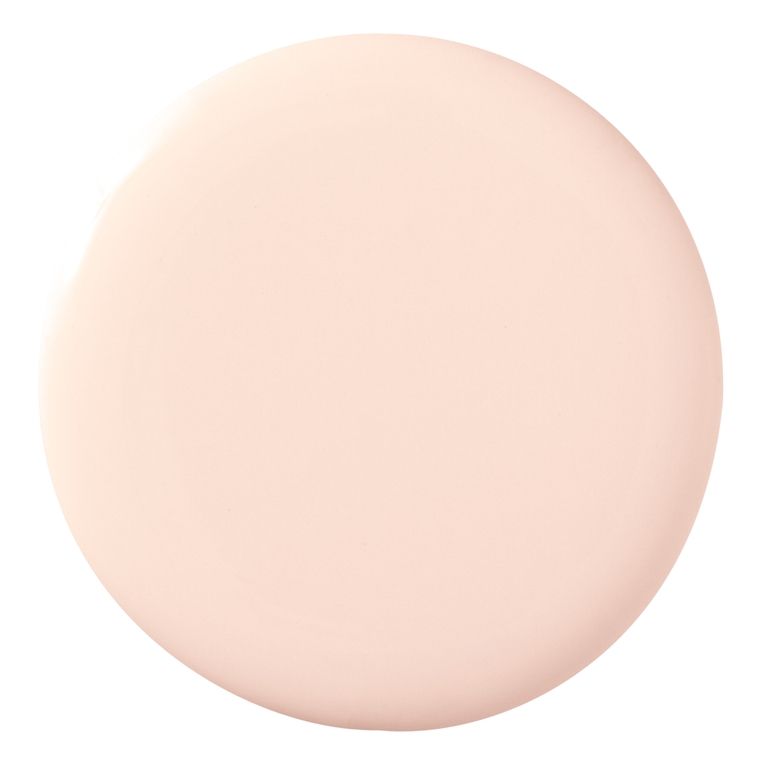 Color Inspiration: Queen Anne Pink
"Elton John once handed me a flower that had a gorgeous pink tint and said 'Do a room around this.' I found some lovely Cole Fax and Fowler chintzes, and the seating ranged from casual American wicker to sophisticated Jean-Michel Frank. And of course I carried that color to the ceiling. Because, after all, who doesn't look good in a blush of pink?" — Stan Topol
Make it yours: Benjamin Moore Queen Anne Pink HC-60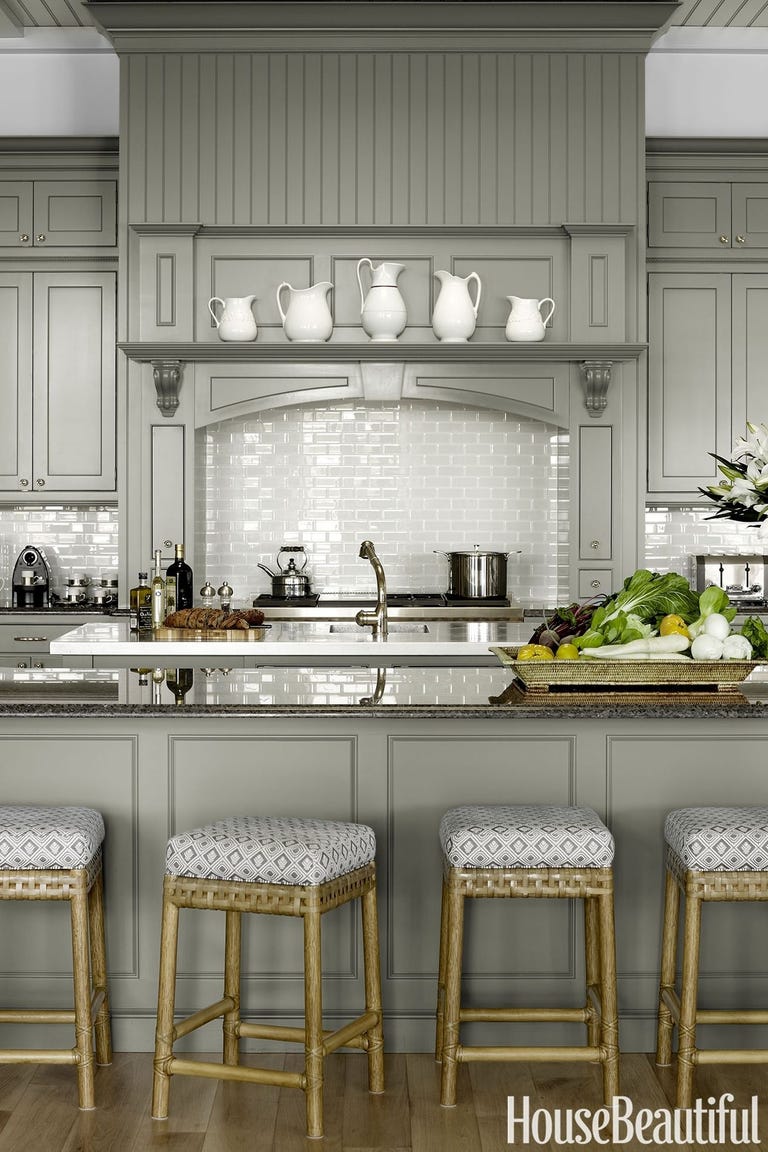 The Look
In a Florida home, Marshall Watson departed from the expected pastels in favor of 72 shades of gray. He opted for Benjamin Moore's Chelsea Gray for the inviting kitchen.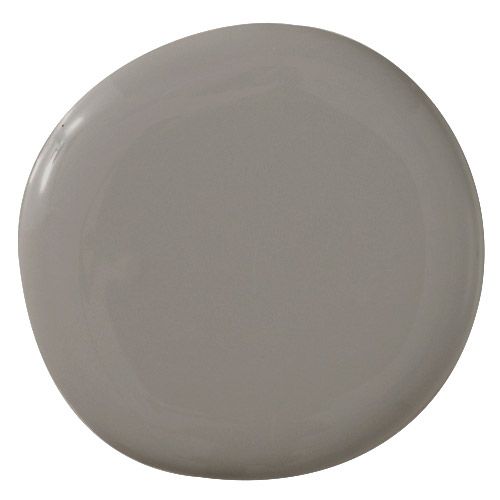 Color Inspiration: Chelsea Gray
"Grey brings in a sense of shadow that softens the environment. It's a relief to have that coolness." — Marshall Watson
Make it yours: Benjamin Moore Aura Chelsea Gray HB-168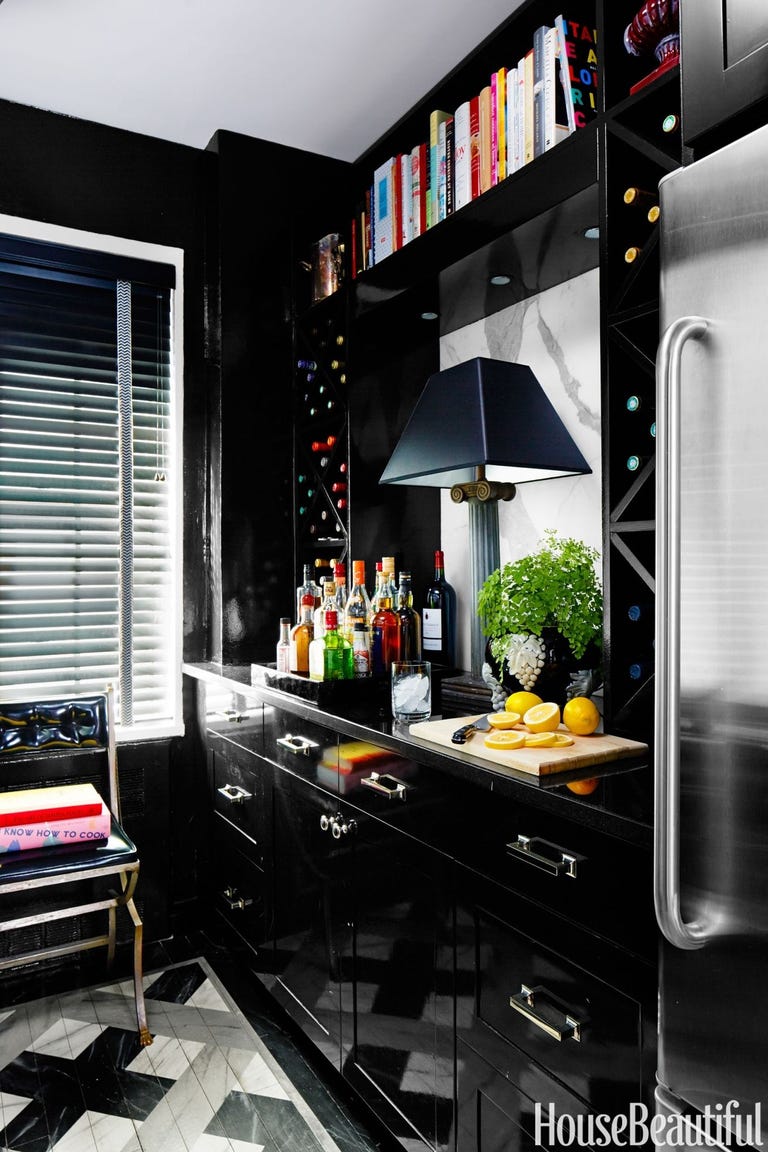 The Look
In a tiny New York City apartment, Nick Olsen didn't shy away from drama. The lacquered black kitchen is simply stunning. The shining finish reflects light, giving it a jewel box feel.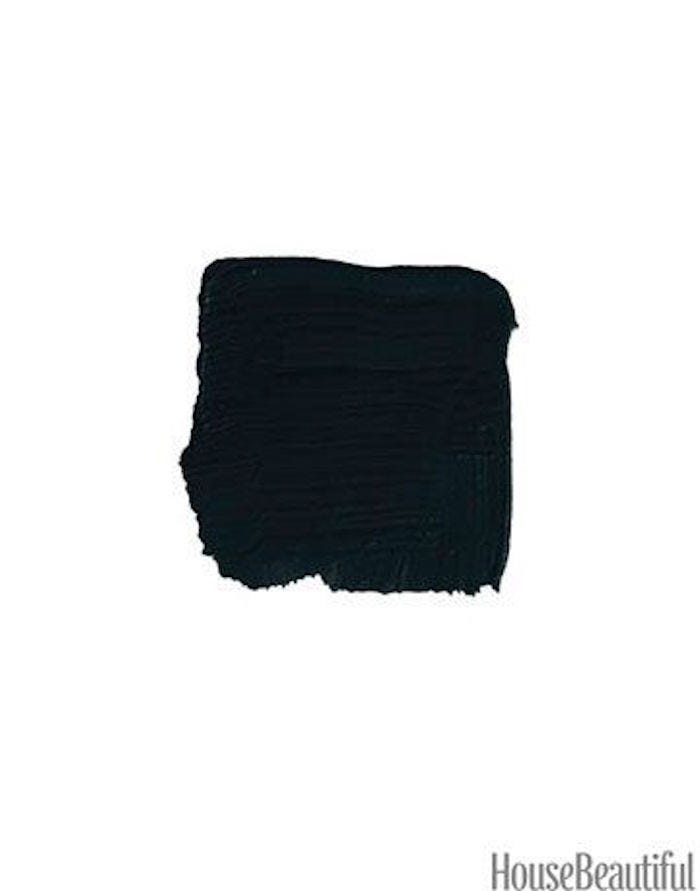 Color Inspiration: Black
"Black is dramatic and daring. It has that forbidden quality, which is irresistible. I think of sexy black negligees and fast black cars. A room painted black is a place where you can tell secrets. The semigloss finish gives it an edge, like patent leather, and makes everything pop. You have to be very confident to use black, and that kind of confidence is very attractive." — Nancy Boszhardt
Make it yours: Benjamin Moore Black Satin 2131-10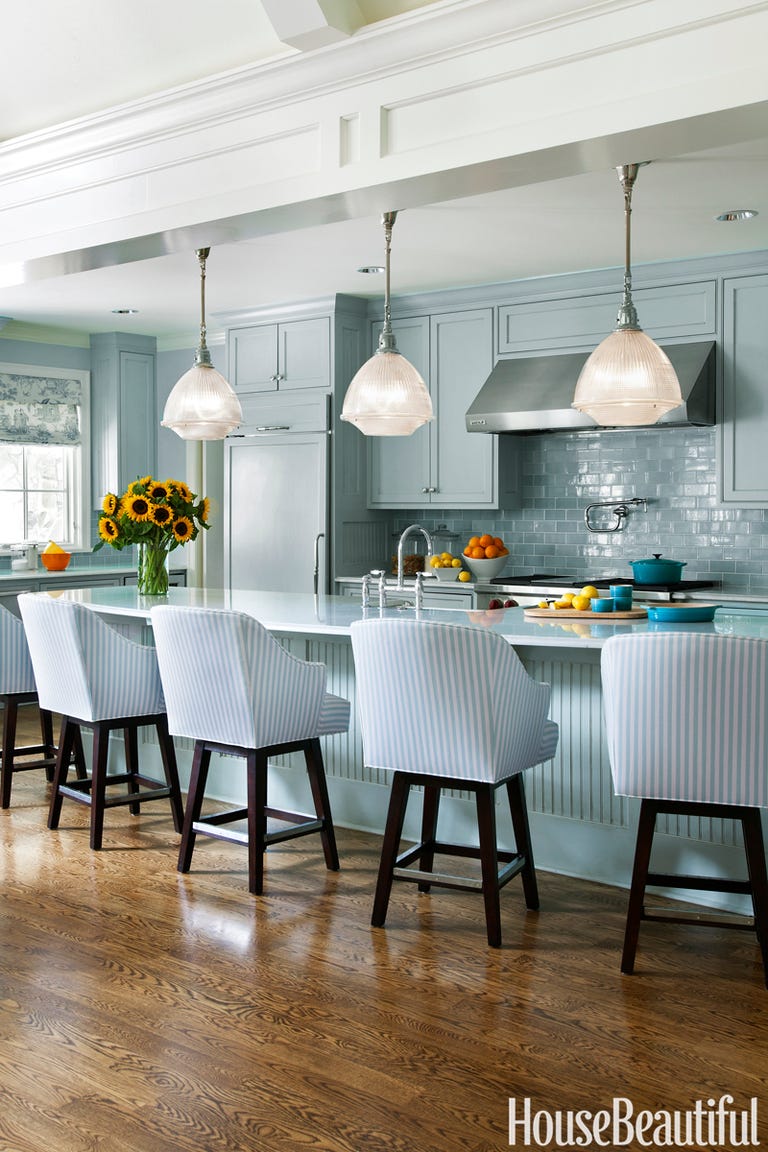 The Look
A cool sea breeze washes over this cerulean space designed by Tobi Fairley, with matching counter stools to boot.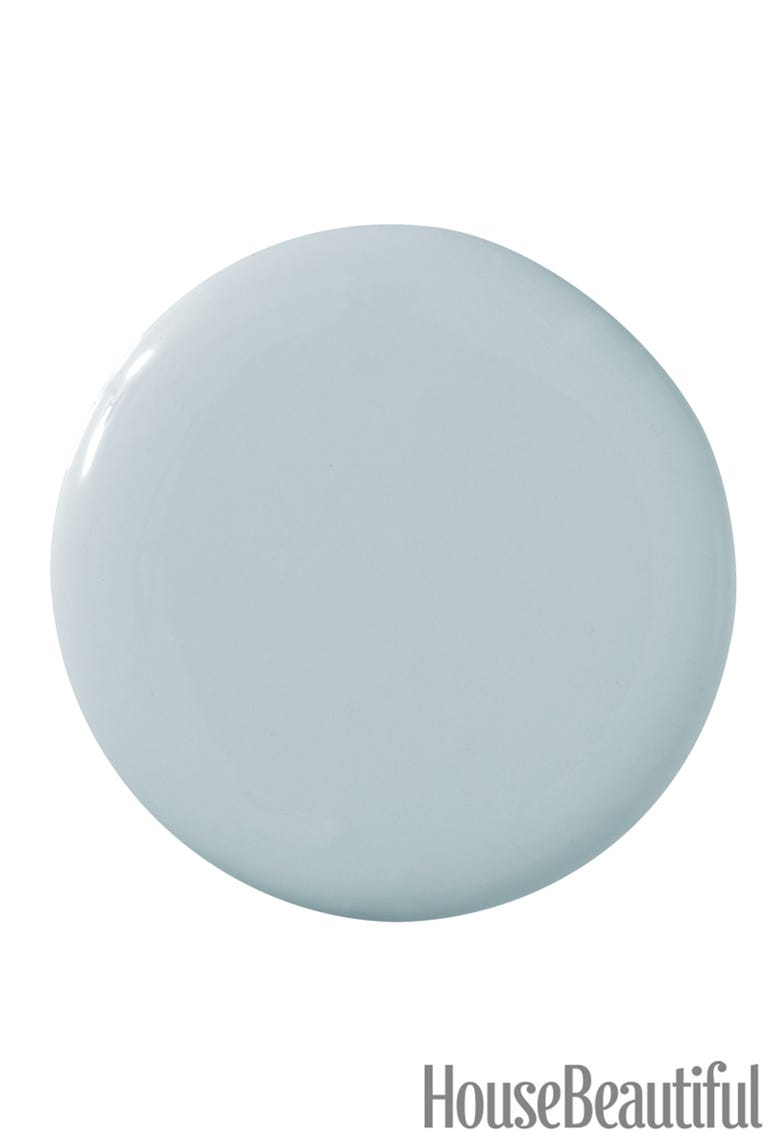 Color Inspiration: Tidewater
"I couldn't not do an aqua kitchen for clients who love the ocean. Their home is in landlocked Arkansas, but they requested the relaxing, transporting blue-green of tropical seas, and this color nails it. The kitchen is open to the family room, and enveloping it completely in watery blues, from the island to the refrigerator panel to the tiled backsplash, helps it recede and disappear." —Tobi Fairley
Make it yours: Sherwin-Williams Tidewater SW 6477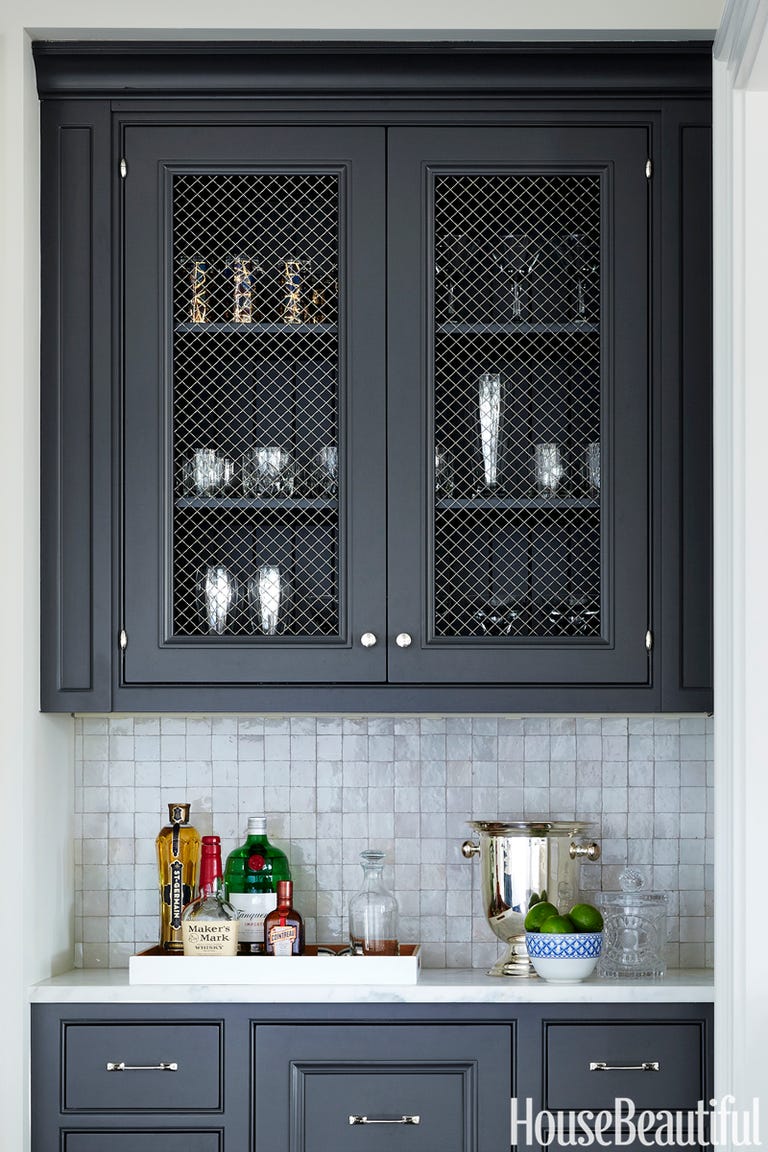 The Look
Go ahead and take the plunge on a deep hue. Black and blue mix together to create the richest gray.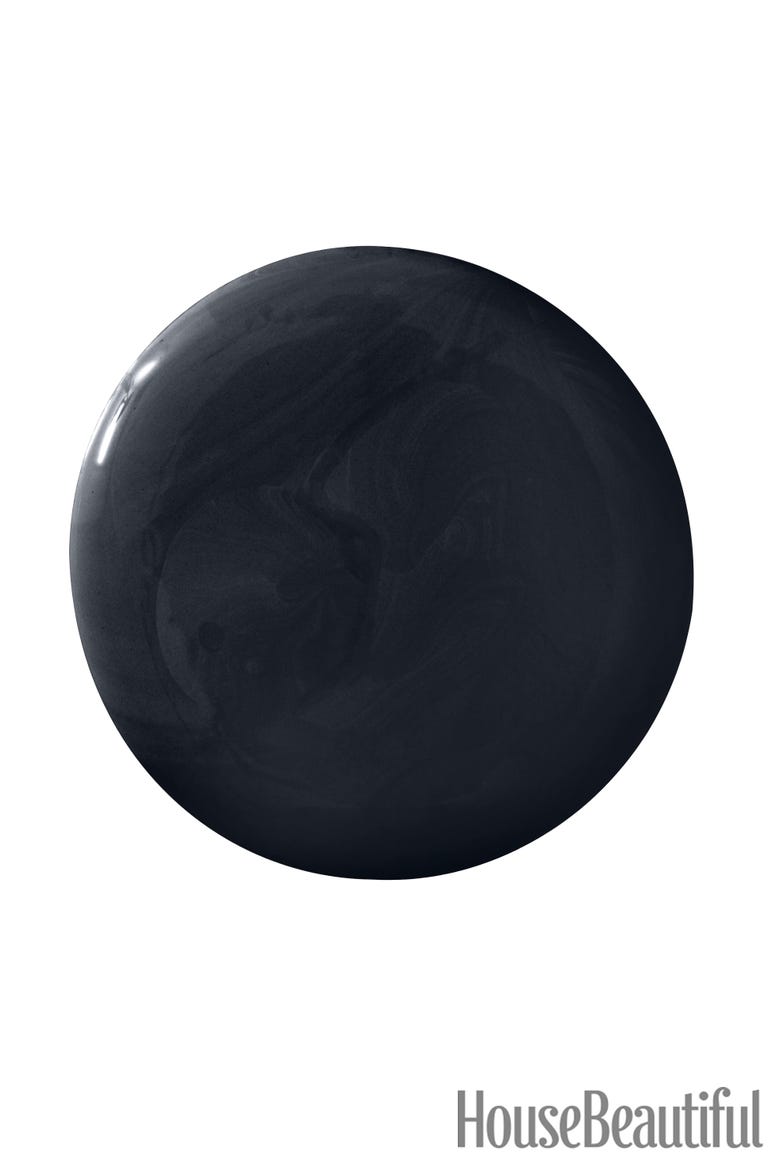 Color Inspiration: Artist Grey
"The combo of elegance and approachability makes this navy perfect for kitchens. It's the most-requested color in my portfolio — it's both luxe and everyday practical. This blue is like the shy friend I had in elementary school: Initially, it seems cold and standoffish, but after spending some time getting to know it, you wonder how you ever got along without it." —Andrew Howard
Make it yours: Ralph Lauren Paint Artist Gray RLUL219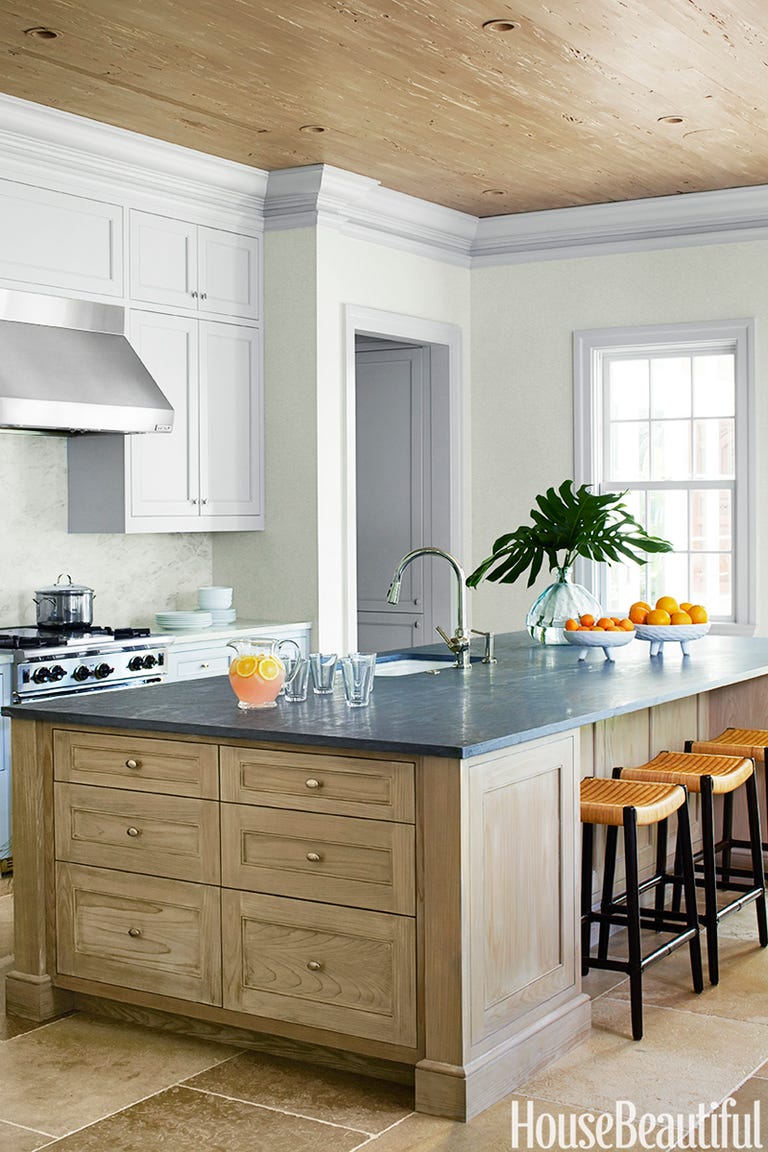 The Look
Bring out natural textures with the palest of grays. In a kitchen by Beth Martell, a showstopper island gets its chance to shine thanks to subdued cabinets and trim.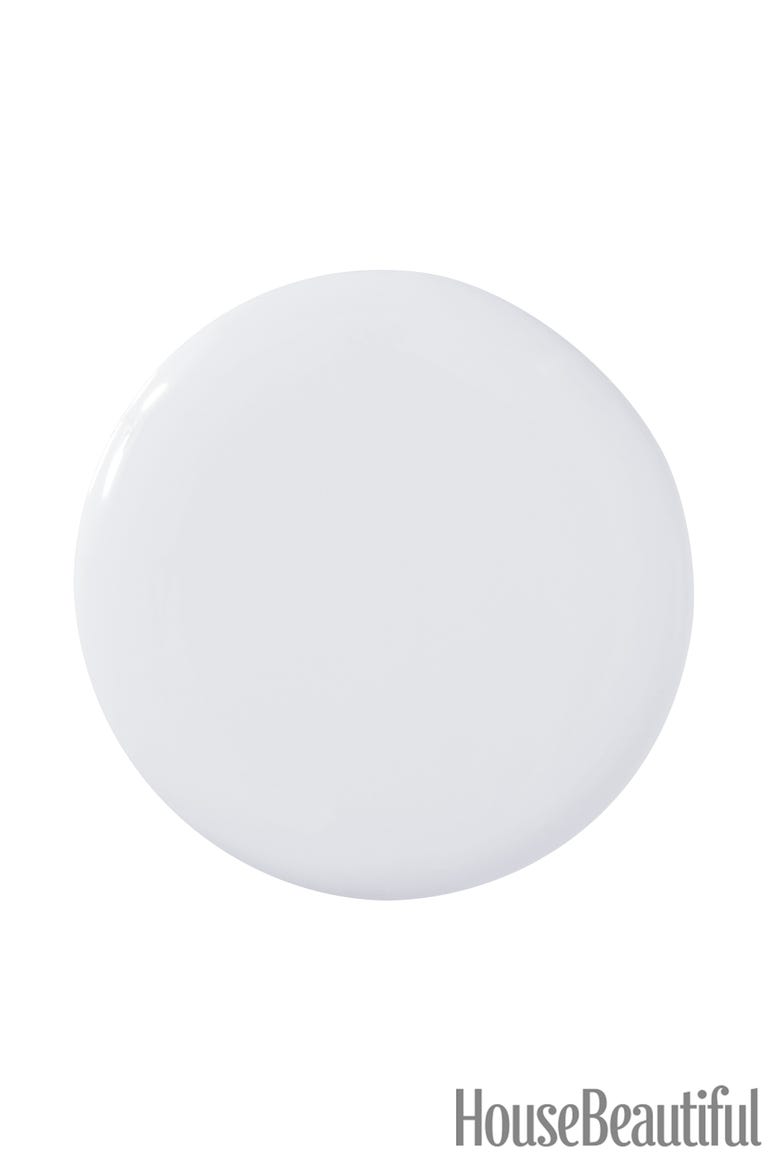 Color Inspiration: Paper White
"For a breezy Palm Beach kitchen, I treated this wispy-cloud gray as an accent color. It's muted and calm, and on sunny days, it reads as the lightest, palest blue. Painting it on the cabinets and architectural details draws attention to the textures of the raffia wallpaper and pecky cypress ceiling while keeping the focus on the stunning limestone-topped island." —Beth Martell
Make it yours: Benjamin Moore Paper White 1590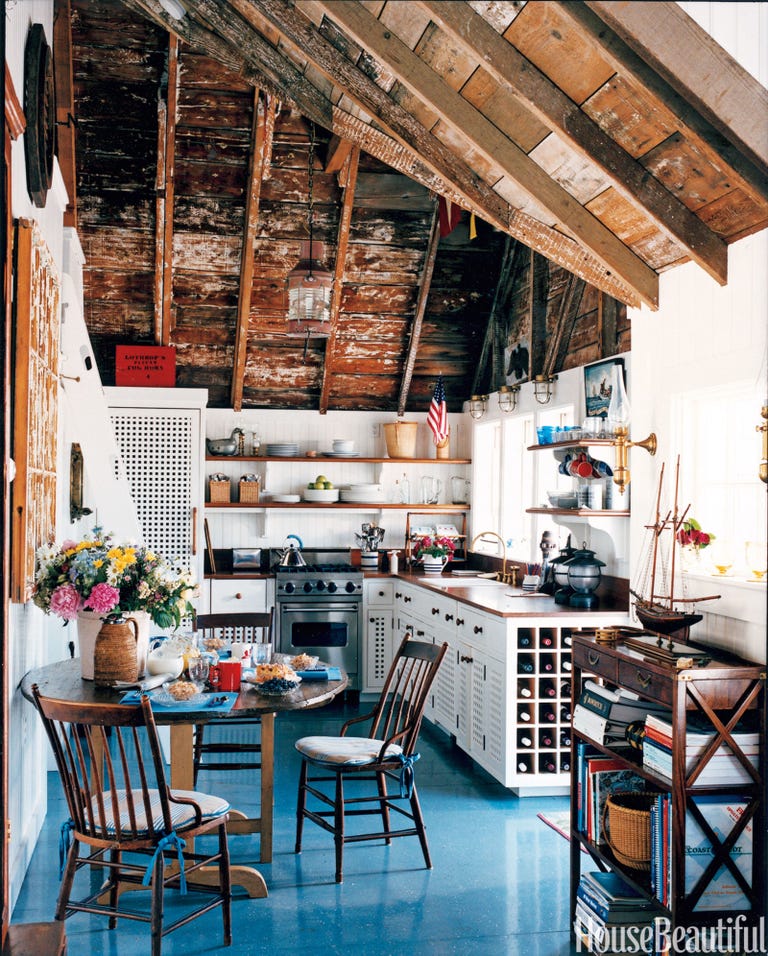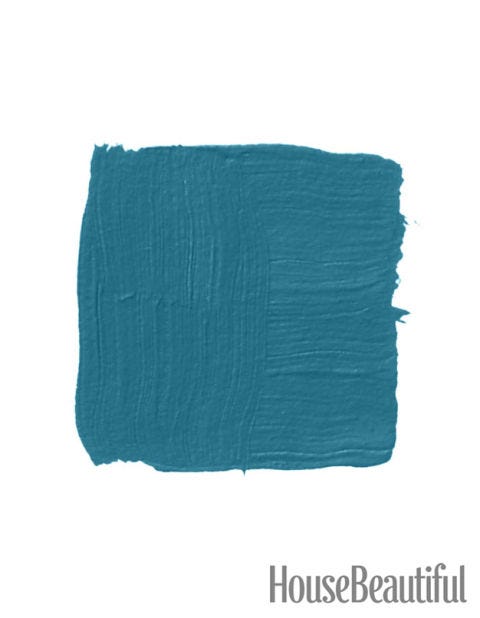 Color Inspiration: Deep Ocean
"Blue was a natural for a Nantucket boathouse, and it brightened all that old wood. Then we spattered it with red, white and blue, so you don't notice all the sand you track in. You just tap a wet paintbrush against a strip of wood, but it's more difficult to control than you think. It could end up looking like a Jackson Pollock — but that would be cool too." —Gary McBournie
Make it yours: Benjamin Moore Deep Ocean 2058-30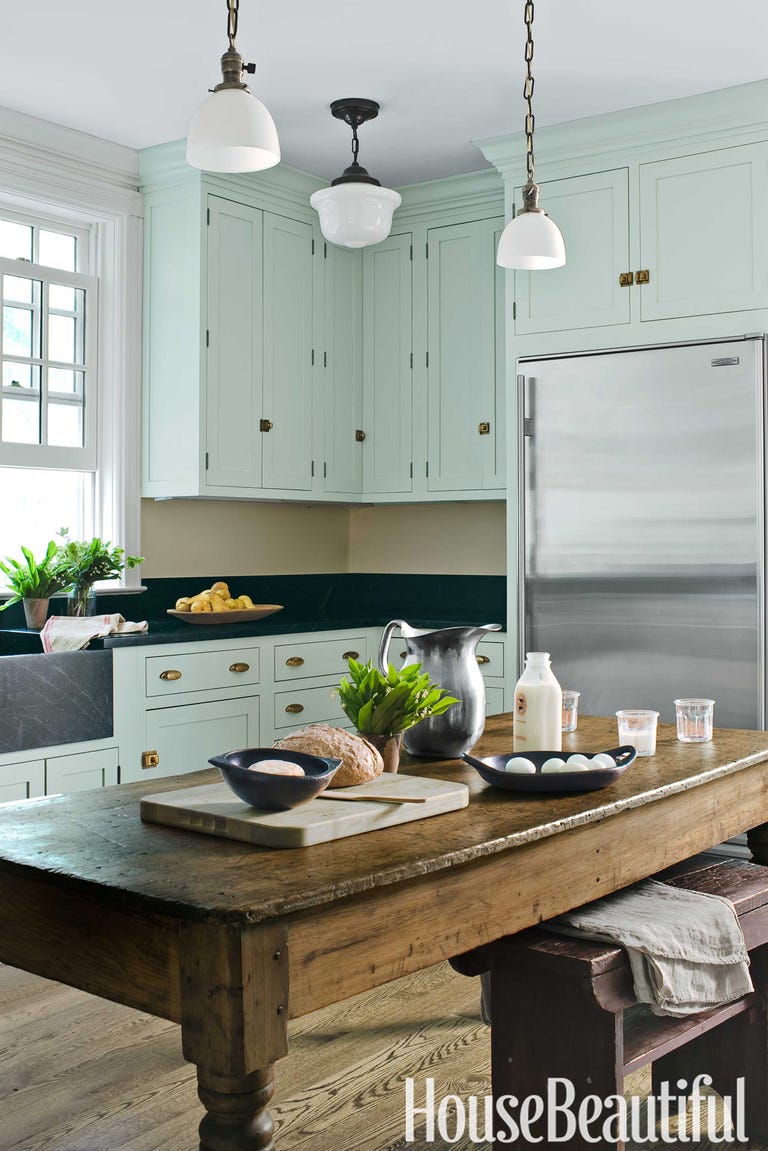 The Look
For a farmhouse kitchen in New York, Shaker-style cabinets painted Teresa's Green by Farrow & Ball have a wonderfully old-fashioned but surprisingly fresh look.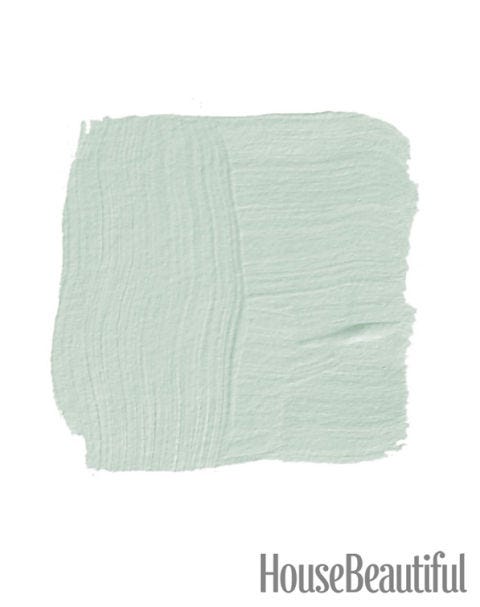 Color Inspiration: Teresa's Green
"On the beautiful blue side of a classic celadon, this color is a complement to everything it meets. Let it be the bold stroke and keep the rest of the scheme simple; you can't go wrong with black and white for countertops, tile, etc. Throw some fresh fruits and vegetables into low wooden bowls and take a cue from them for accent colors — bright carrot-orange or eggplant would do well. But then again, it'd be hard to go wrong." —David Kaihoi
Make it yours: Farrow & Ball Teresa's Green 236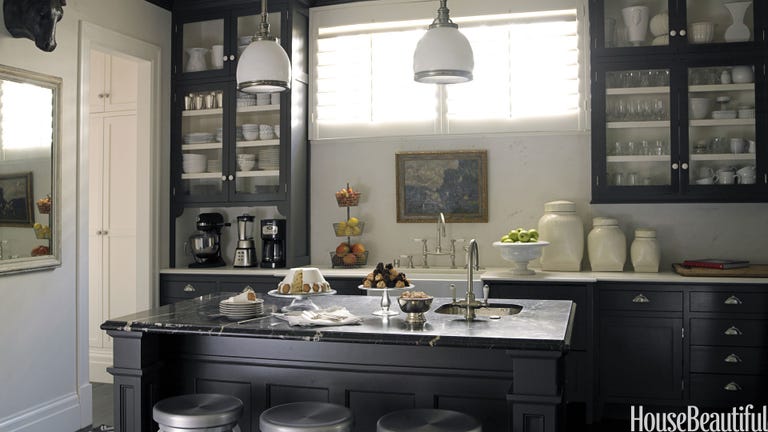 The Look
That pop of white prevents the espresso cabinetry from overpowering designer Stephen Shubel's San Francisco kitchen— and adds the illusion of extra space.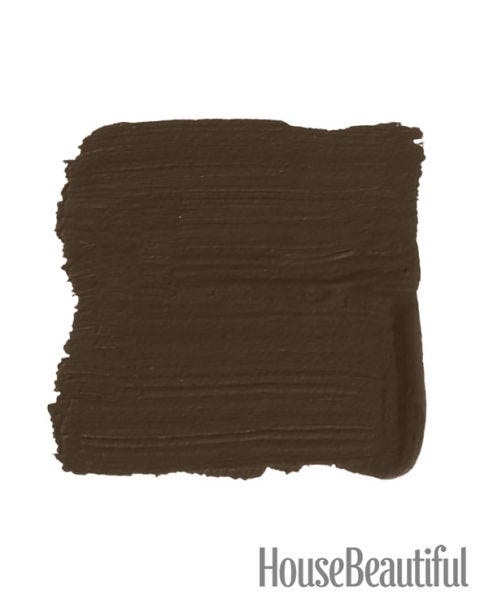 Color Inspiration: Midsummer Night
"We wanted the walls and cabinets to recede, so we painted them this dark, almost black, color — like bittersweet chocolate. And then we did white marble counters and painted the inside of the cabinets white, which made all the dishes really pop. The room ended up looking very graphic. Somehow it was contemporary and old-world at the same time, and definitely warmer than an all-white kitchen." —Stephen Shubel
Make it yours: Benjamin Moore Midsummer Night 2134-20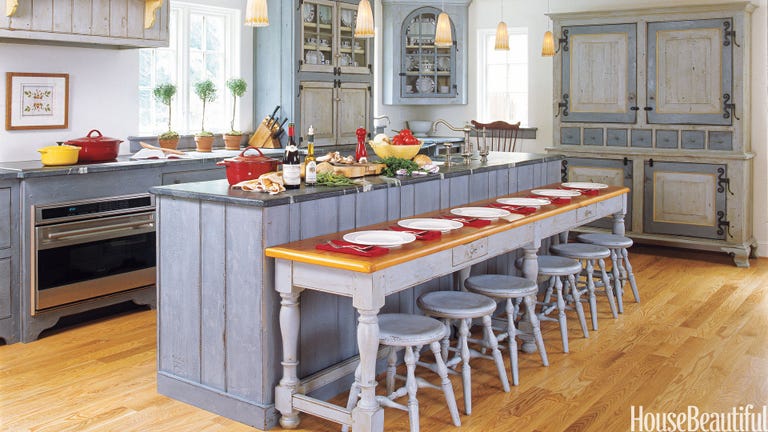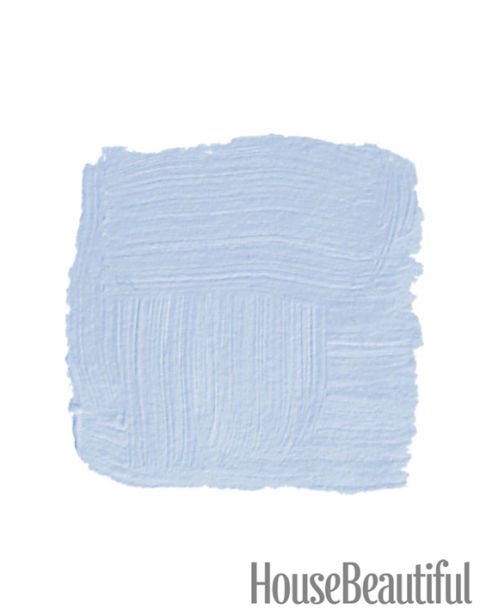 Color Inspiration: Bewitching Blue
"This blue … is easy to live with, calming and friendly. And that little bit of gray in it transforms it from an ordinary blue into something more elegant and subtle. I see it with soft yellow, and you might want some white, absolutely." –Nancy Mullan
Make it yours: Sherwin-Williams Bewitching Blue SW 6960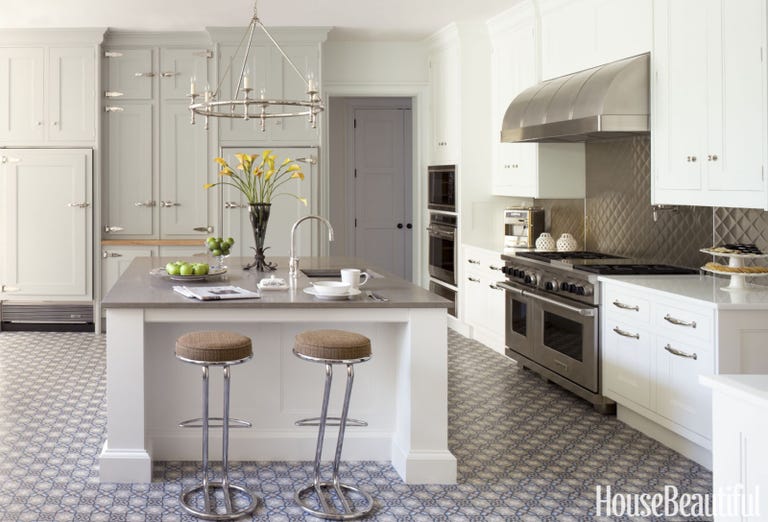 The Look
Stainless steel accents — not to mention an eye-catching floor — take designer Penny Drue Baird's pale gray pick over the top.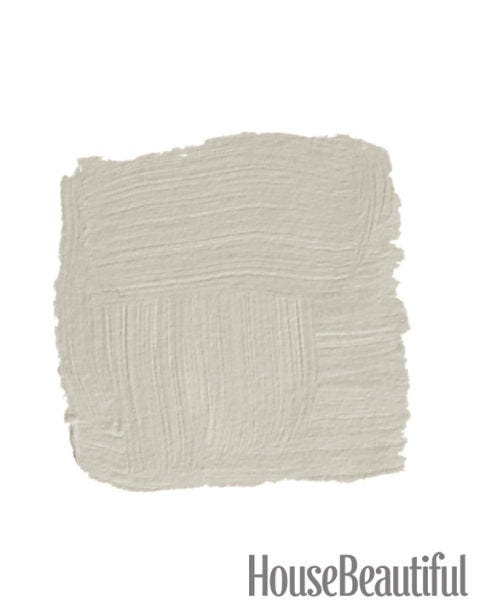 Color Inspiration: Mercury
"The name Mercury gives you the idea that it's silvery, but it's not. It's a medium pale gray, a Dior gray, that goes really well with both traditional and contemporary and doesn't show the wear that white cabinetry does. It also looks great with stainless steel, nickel, and Carrara marble. Try turquoise as an accent color." —Penny Drue Baird
Make it yours: Christopher Peacock Paint Mercury CPP1 18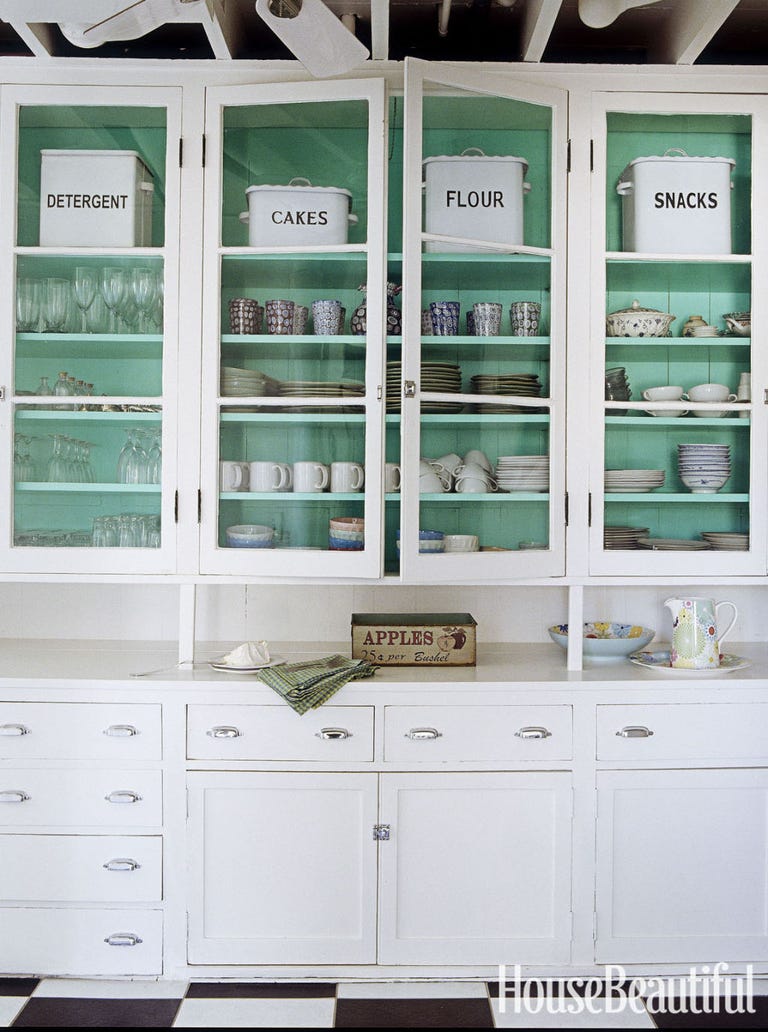 The Look
This celadon hue takes white from blah to beachy when peeking out from behind the cottage kitchen's glass-front cabinets.
Color Inspiration: South Beach
"This is a really green turquoise. It reminds me of sea glass, and we used it in a beach house that was all about fresh air and fresh color. I probably wouldn't have chosen it for solid cabinet fronts, but it worked well in the back, as an accent color. And it tied in with other things we used in the kitchen."—Jason Bell
Make it yours: Benjamin Moore South Beach 2043-50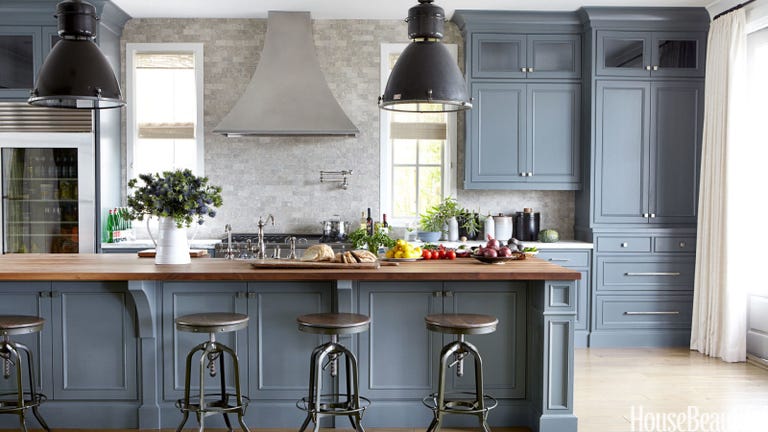 The Look:
"In a room this big, with east and west exposures, all this gray is grounding," Joe Lucas says of a masculine California bachelor pad he designed with Parrish Chilcoat.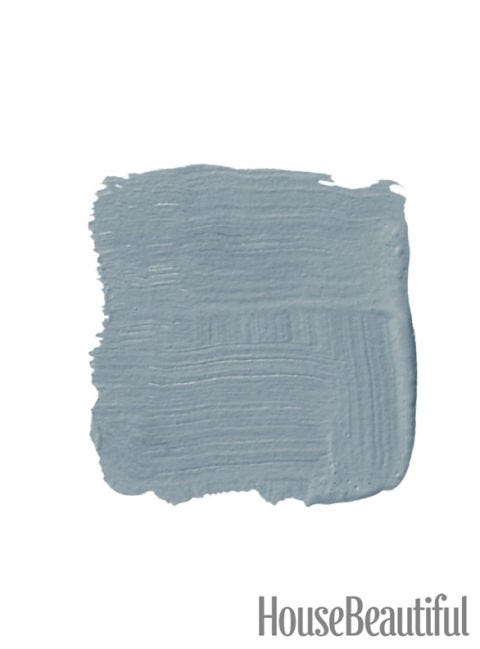 Color Inspiration: Van Courtland Blue
"Imagine fog on Cape Cod. It's gray, but it does have that tinge of blue in it. In a small kitchen, I'd just do this on the lower cabinets with white on the uppers, but in a big kitchen you could get away with it on both. Maybe the island in white with blue pilasters, blue quartz on the countertops. Even though it's a cool color, it still has a warmth to it." —Ann Morris
Make it yours: Benjamin Moore Van Courtland Blue HC-145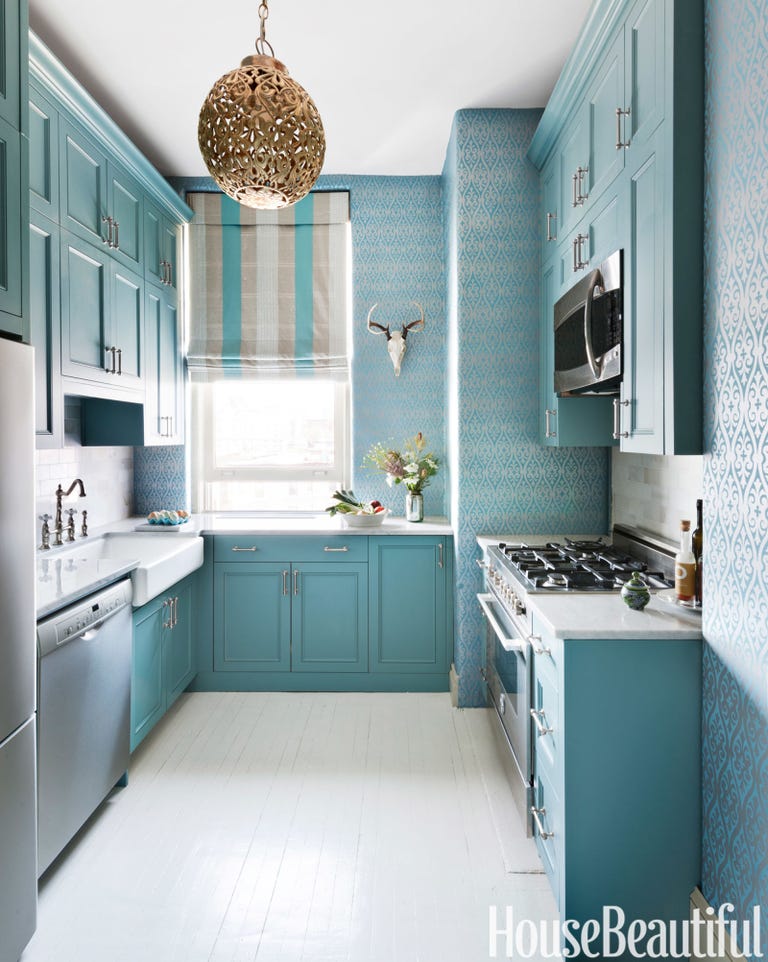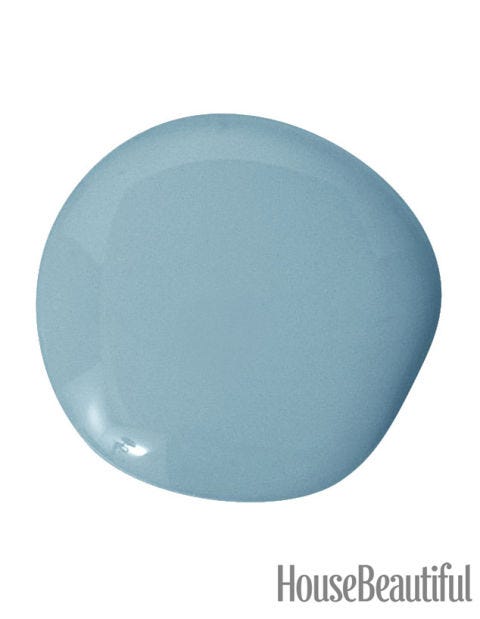 Color Inspiration: Deepest Aqua
"My idea of Caribbean blue is this gorgeous turquoise that takes me straight to the beach. It's the color of water in the sunlight, with brightness as well as depth. And like all the Glidden blues, it has a beautiful undertone. It might be pretty intense in a whole room, but try it on one wall, a ceiling, shutters, or a door — all great ways to use a strong color."—Suzanne Kasler
Make it yours: Glidden Premium Deepest Aqua GLB24